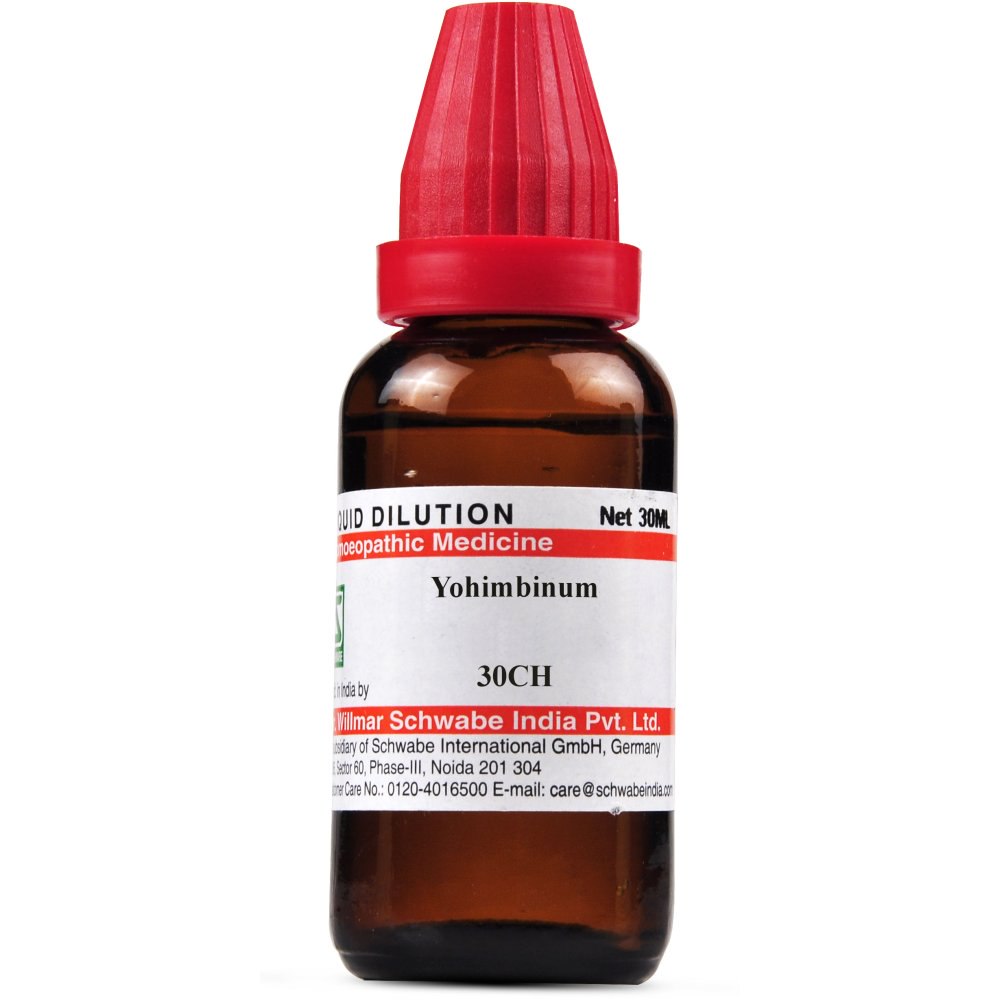 Willmar Schwabe India Yohimbinum 30 CH (30ml) : Weakness of Sexual Organs, Premature Ejaculation, Stimulates Lactation
Also known as
Yohimbe
Properties
Potency
30 CH
Weight
75 (gms)
Dimensions
3 x 3 x 9 centimeters
Willmar Schwabe Yohimbinum(Dilution)
Yohimbe tree bark was used to make the medicine.
Coryanthe Yohimbe is its common name.
Causes & Symptoms for Willmar Schwabe Yohimbinum
Yohimbe has calming properties, which lowers stress.
The blood vessels are relaxed, and it aids in lowering blood pressure.
The alkaloid found in the bark can be used to burn fat, which makes it useful for weight loss.
Both men and women experience increased excitement and sexual organ stimulation.
Mind:
Anxiety and constant thinking combined with a feeling of heat in the face.
Yohimbinum is used to treat his worry, which keeps him awake all night, as well as his lack of motivation to work.
Head:
Yohimbe can help with headaches brought on by stress, worry, and congestion.
This treatment lessens the tendency to perspire.
Stomach:
Yohimbe can be used to treat patients who have lost their appetite or don't want to eat.
Concerns raised by women
Yohimbe works well for treating girls whose periods are irregular, scant, or occasionally excessive.
This remedy helps women who experience postpartum milk complaints due to congestion.
It aids in increasing women's desire for sex.
Issues raised by men
Yohimbe directly stimulated the pelvic nerve, which in turn relaxed the blood vessels in the private parts, increasing blood flow and starting an erection indirectly.
Men with erectile dysfunction, early ejaculation, loss of strength, and pain and swelling in the testicles can benefit from yohimbinum treatment.
Generalities:
This remedy relieves the fluttering heat sensation that is experienced in the back, abdomen, and heart.
Hands shaking, making it difficult to write because of fear.
Side effects of Willmar Schwabe Yohimbinum
Although there are no such side effects, it is still important to take each medication according to the instructions.
Dosage and rules while taking Willmar Schwabe Yohimbinum
Three times per day, mix five drops in a half cup of water.
The globules can also be used as medicine; take them as directed by your doctor, usually three times per day.
We advise you to use medical advice when taking.
Interactions and Reactions of Willmar Schwabe Yohimbinum
It is advised to avoid because, if taken in the wrong dosage, it could result in hypertension while taking anti-hypertensive medication.
Under a doctor's supervision is required when pregnant, nursing, or experiencing liver issues.
Terms and Conditions
Homeopathic medicines have a variety of uses and are prescribed based on symptom similarity; it is assumed that you have sought medical advice before purchasing this medication and are not self-medicating.
Attributes
Brand
Dr. Willmar Schwabe India
Remedy Type
Homeopathic
Country of Origin
India
For Use By
Women / Female
Homeo Forms
Dilution
Potency
30 CH / 30CH
Price
₹ 90