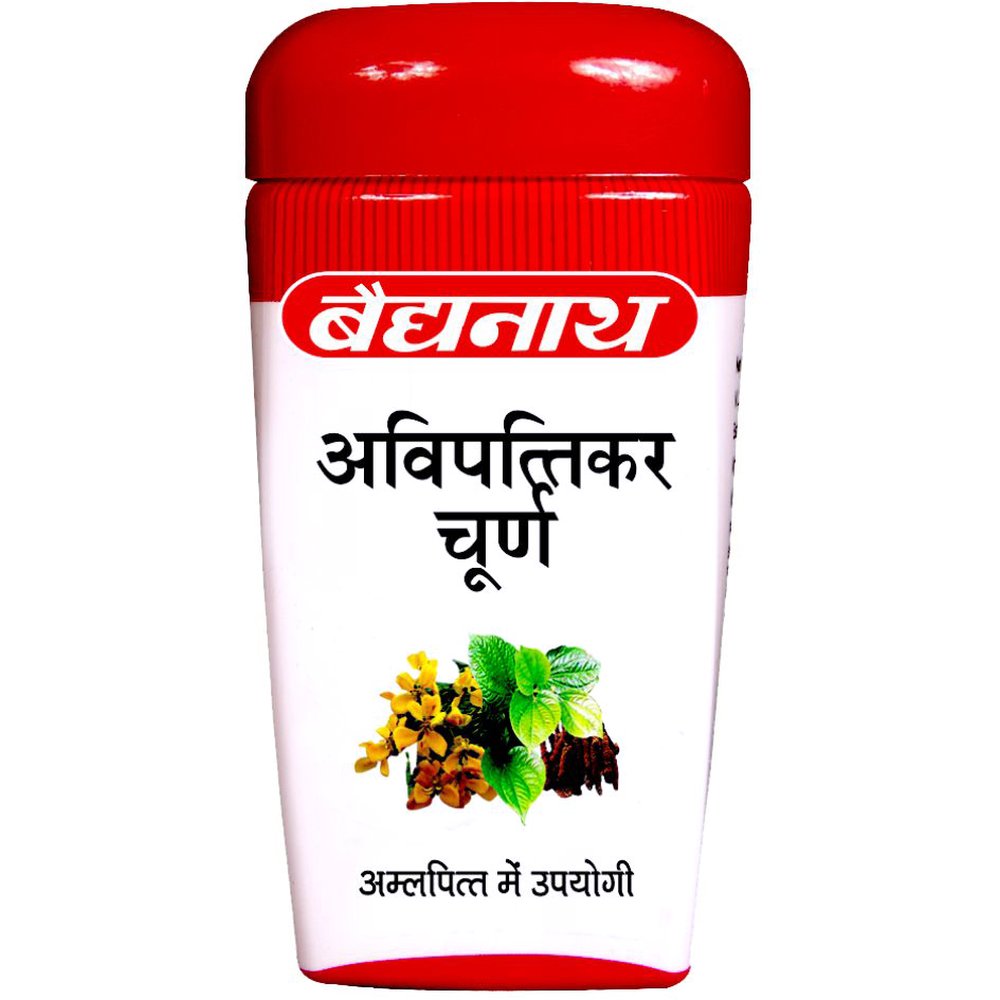 Baidyanath Avipattikar Churna (120g) : Beneficial in Indigestion, Constipation, Heart Burn, Vomiting, Acidity, Loss of Appetite Etc.
Properties
Weight
139 (gms)
Dimensions
6.5 x 6.5 x 11 centimeters
About Avipattikar Churna
Avipattikar Churna, a wonderful blend of natural traditional ayurvedic herbs that aid in the acidity treatment, is a combination of ayurvedic herbs that is advised for gastrointestinal issues. It consists of natural herbs that balance the pH of the stomach and aids in the relief of acidity. The natural herbs used in this product are thought to lessen the formation of acid in the stomach and aid in the treatment of hyperacidity. It aids in thorough digestion of the food
Ingredients of Avipattikar Churna
Zingiber Officinale, known as Sonth (dried ginger
Pepper nirum (black pepper)
(Piper Longum) Long pepper
Haritaki, Terminalia chebula (Chebulic Myrobalan)
Terminalia bellirica, also known as Bibhitaki (Bahera or Beleric Myrobalan).
Amla, also known as amalaki or Indian gooseberry, is an edible plant.
Cyperus rotundus, also known as mustaka (nut grass)
False black pepper, or vaividang, by Embelia Ribes
Elettaria Cardamum, also known as green cardamom
Cinnamomum Tamala, also known as "Tejpatta"
Syzygium Aromaticum, also known as Laung
Turpeth-Operculina Turpethum, Nishoth
The sugar crystals known as misri are used in candy.
Medicinal Properties of Avipattikar Churna
Antacid
Appetizer
Carminative
digestion-enhancing drug
Antilithiatic
moderate diuretic
Antioxidant
Anti-inflammatory
Medicinal Indications of Avipattikar Churna
Following health issues benefit from Avipattikar Churna.
Digestive Health
Acidity
persistent gastritis
GERD
Constipation
Heartburn
the inability to eat
Indigestion
Kidneys & Urinary System
bladder issues
Micturition Difficulty
renal stones
Nephritis
Kidney Disease
Kidney failure is associated with uremia (increased blood urea level).
renal failure that is ongoing
Benefits & Medicinal Uses of Avipattikar Churna
The digestive, excretory, and urinary systems are all affected by Avipattikar Churna, which also neutralizes stomach acid secretion.
Digestive Health
Acid Dyspepsia and Indigestion
The beneficial ayurvedic medicine for indigestion is as follows. Avipattikar Churna is effective in acid dyspepsia (indigestion), which is characterized by loss of appetite, stomach discomfort, nausea, sour and burning vomit, heartburn (Retrosternal Burning), and a burning sensation in the throat.
3 to 5 grams of avipattikar churna
500 mg of praval pisti
250 mg of Amalaki Rasayana
One gram of licorice powder
500 mg of Giloy Sat
The following symptoms can be effectively treated with this combination when given with coconut water right after a meal for heartburn (retrosternal burning).
abdomen feels hot and burning
Initial satiation
fullness following a meal
acid reflux in the stomach
The complete course of treatment should be at least for 4 weeks to prevent recurrence. This combination helps neutralizing the acid and impelling the excess acid in the intestines, which relieves the all these gastric symptoms. Additionally, it balances the acid secretion and reduces the irritation to stomach lining, which helps getting complete relief from the diseases.
Chronic Gastritis
A number of factors, such as anti-inflammatory drugs, Helicobacter pylori, and others, can contribute to the development of chronic gastritis, which is an inflammation of the stomach lining. When the mucus-lined barrier becomes weakened as a result of these various factors, the digestive juices begin to affect the stomach lining, and gastritis progresses.
Although Avipattikar Churna is an effective treatment for expelling acid from the stomach to the intestines, which helps reduce inflammation and rebuild the mucus-lined barrier, it only offers partial relief and should only be used in conjunction with other significant treatments for gastritis.
500 mg of bamboo manna with vanshlochan (tabasheer)
500 mg of Giloy Sat
500 mg Amalaki Rasyana
1000 mg licorice (mulethi powder)
a 1000 mg serving of coriander leaf powder
Jeera (cumin) 500 mg
GERD (Gastroesophageal reflux disease)
When stomach acid flows back into the esophagus or food pipe, it can cause gastroesophageal reflux disease (GERD), which is a chronic form of acid reflux.
For treating the root cause of GERD, one may need additional remedies such as Abhrak Bhasma, Yashad Bhasma, Vanshlochan, Licorice, etc. The combination prescribed for chronic gastritis is also helpful in this situation. Avipattikar Churna only prevents flow back of the stomach content by impelling it to the intestines.
Kidneys & Urinary System
We have discovered that Avipattikar Churna is extremely effective in treating kidney and urinary disorders, though only a few ayurvedic doctors use it for kidney diseases.
Difficulty in Micturition (Difficulty Passing Urine)
Avipattikar Churna, which has a diuretic effect and acts on the ayurvedic concept of APANA VATA, which induces urination and aids in excretion, can help if the prostate is not the cause of difficulty passing the urine.
Kidney Stones
Hajrul Yahood Bhasma is combined with Avipattikar Churna for getting promising results, despite the fact that Avipattikar Churna is highly effective and can even work alone in removing kidney stones.
Nephritis & Nephrotic Syndrome
It is effective in treating all forms of nephritis, including glomerulonephritis, interstitial nephritis, and tubulo-interstitial nephritis, because Avipattikar Churna has an anti-inflammatory effect, though this action is more noticeable on the kidneys.
When used in conjunction with Chandraprabha Vati, Punarnava Powder, or Punarnavarishta in patients with nephrotic syndrome, Avipattikar Churna lessens protein excretion in the urine, edema, and excessive fluid retention.
3 to 5 grams (1 teaspoon) of avipattikar churna
500 to 1000 mg of Chandraprabha Vati
3 grams of punarnava powder
Uremia & Chronic Kidney failure
Avipattikar Churna, one of the ayurvedic medications that lower blood urea levels and keep them under control, is a safe treatment for uremia and chronic kidney failure, but it shouldn't be used if diabetes is the cause of kidney failure because it contains sugar.
Dosage & Administration of Avipattikar Churna
1-3 grams for children
3- to 6-gram adults
Geriatric (3 grams) (over 60 years old)
12 grams (divided) per day is the maximum dosage possible.
Side effects of Avipattikara Churna
Only a small percentage of people may experience dehydration, diarrhea, and watery stools.
This product is not advised for those who have diabetes because it contains added sugar.
Avipattikar Choorna should be used with caution by those who have diabetes, hypertension, sensitive stomachs, ulcerative colitis, or diarrhea.
Without a prescription from an Ayurvedic physician, it is dangerous to take this medication.
If not prescribed by a doctor, it is not recommended for young children and pregnant women.
Terms and Conditions
Before purchasing this medication, we have assumed that you sought medical advice and are not using it for self-medication.
Attributes
Brand
Baidyanath
Remedy Type
Ayurvedic
Country of Origin
India
Form Factor
Churna
Price
₹ 240