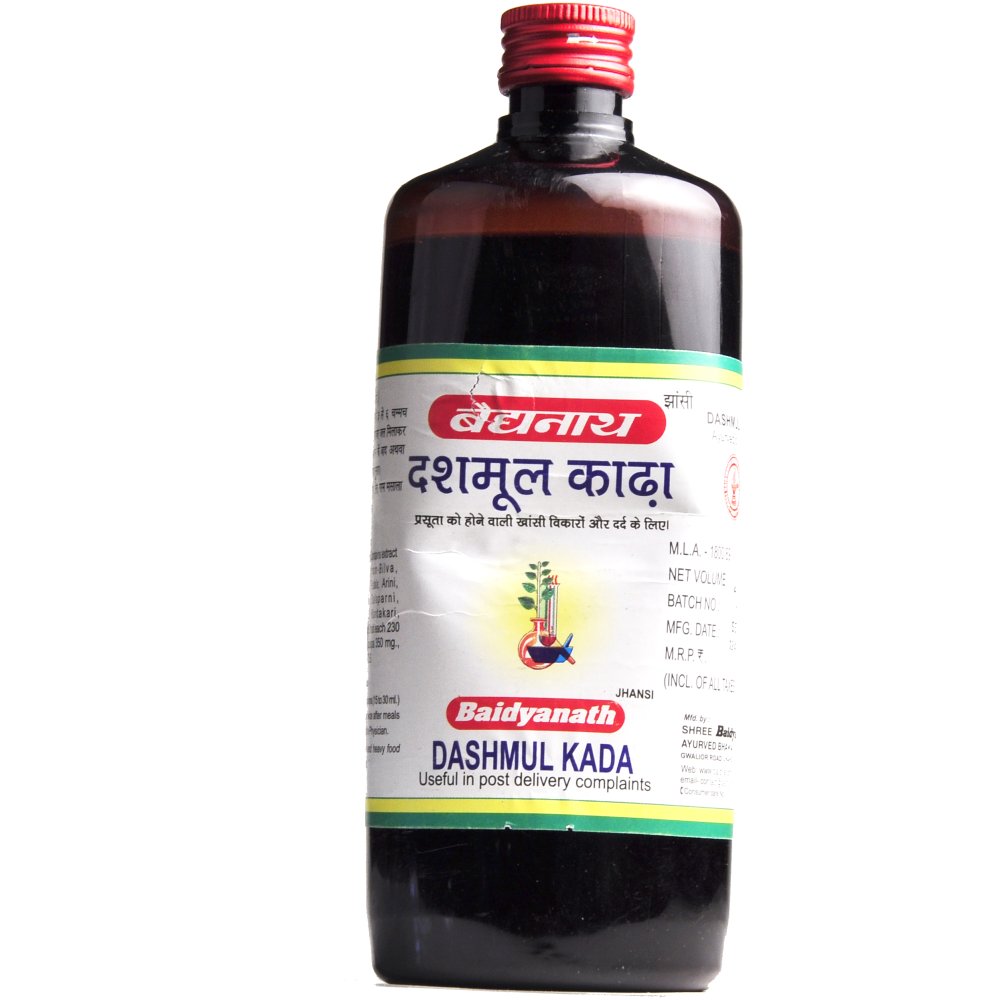 Baidyanath Dashmool Kadha (450ml) : Deals with High Blood Pressure, Calms the Mind and Promote Sound, Restful Sleep
Also known as
Dashmool Kwath, Dashmoola Kashayam, and Dashamoola Kashaya
Properties
Weight
518 (gms)
Dimensions
measuring 6.5 by 6.5 by 18.5 centimeters
About Dashmool Kadha
Dasha means ten and Moola (Mula) means roots, so Dashmoola (Dashamula) means 10 roots. Dashmool Quath is a decoction made by boiling herbs in water to extract the medicinal properties of the ingredients. It is used as a tonic post-delivery and is helpful in post-partum problems. Dashmool kadha is also known as Dashamulam Kashayam.
Ingredients of Dashmool Decoction
Marmelo's eagle.
Indicated oroxylum.
Arborescent Gmelina
Suaveolens stereospermum.
Pristine Integrifolia
Gangetic desmodium
A species of Uraria.
indigenous solanum
Xanthocarpum Solanum.
Terrible Tribulus
Long-piped pipe.
Indication
complaints of rheumatism.
Asthama.
Cough.
Bronchitis.
Indigestion.
Pain.
body sluggishness in general.
optimum nervine tonic
Neuritis accompanied by diabetes.
Medicinal Properties
Anti-inflammatory.
anti-arthritic or anti-rheumatoid.
Analgesic.
Antispasmodic.
Adaptogenic.
Antioxidant.
Neuroprotective.
Anti-paralytic.
uterine stimulant.
Uterine Cleanser.
Therapeutic use of Dashmool Decoction
Osteoarthritis.
muscular spasm.
lower back pain.
Arthritis rheumatica.
Bursitis.
Fibromyalgia.
Gout.
Paralysis.
facial immobility
Hemiplegia.
Sciatica.
Constipation.
bloating or gas.
Bloating.
Having trouble urinating or having a poor urine flow.
cough and pneumonia.
Having breathing issues or asthma.
Atherosclerosis.
aches all over the body.
fatigue and aches all over.
Benefits & Medicinal Uses
According to Ayurveda, Dashmool primarily affects Vata Dosha and lessens its aggravation as well as the Pelvic Colon, Bladder, Pelvis, Kidneys, Bones, Ears, and Lower Limbs. As a result, it treats constipation, enhances the health of the intestines, enhances urine flow, removes toxins from the kidneys, strengthens bones, enhances hearing, and
The Dashamoola combination also improves breathing and reduces coughing fits and breathing issues, particularly those that happen at night.
Pregnancy & Lactation
You should speak with an ayurvedic physician before using Dashamoola formulations while pregnant because the safety profile of Dashmool is not well established for pregnant women, despite the fact that the ingredients in Dashmool in the provided ratio are not likely to cause any side effects.
The use of Dashamoola preparations in lactating women and breastfeeding infants has not been associated with any negative side effects, so it is likely safe for them to consume.
Contraindications
The use of the roots of these ten herbs does not have any absolute contraindications; however, you should check the formulations of Dashamula for any possible precautions or contraindications that may be necessary due to the presence of other ingredients.
Dosage
Ayurvedic doctors may instruct patients to take 12 to 24 ml of the medication before meals at approximately 6 am and 6 pm.
The usual recommendation is to fill the kashayam with an equal amount of water.
It is suggested that you take this medicine with a long pepper.
Terms and Conditions
Before purchasing this medication, we have assumed that you sought medical advice and are not using it for self-medication.
Attributes
Brand
Baidyanath
Remedy Type
Ayurvedic
Country of Origin
India
Form Factor
Kadha
Price
₹ 185