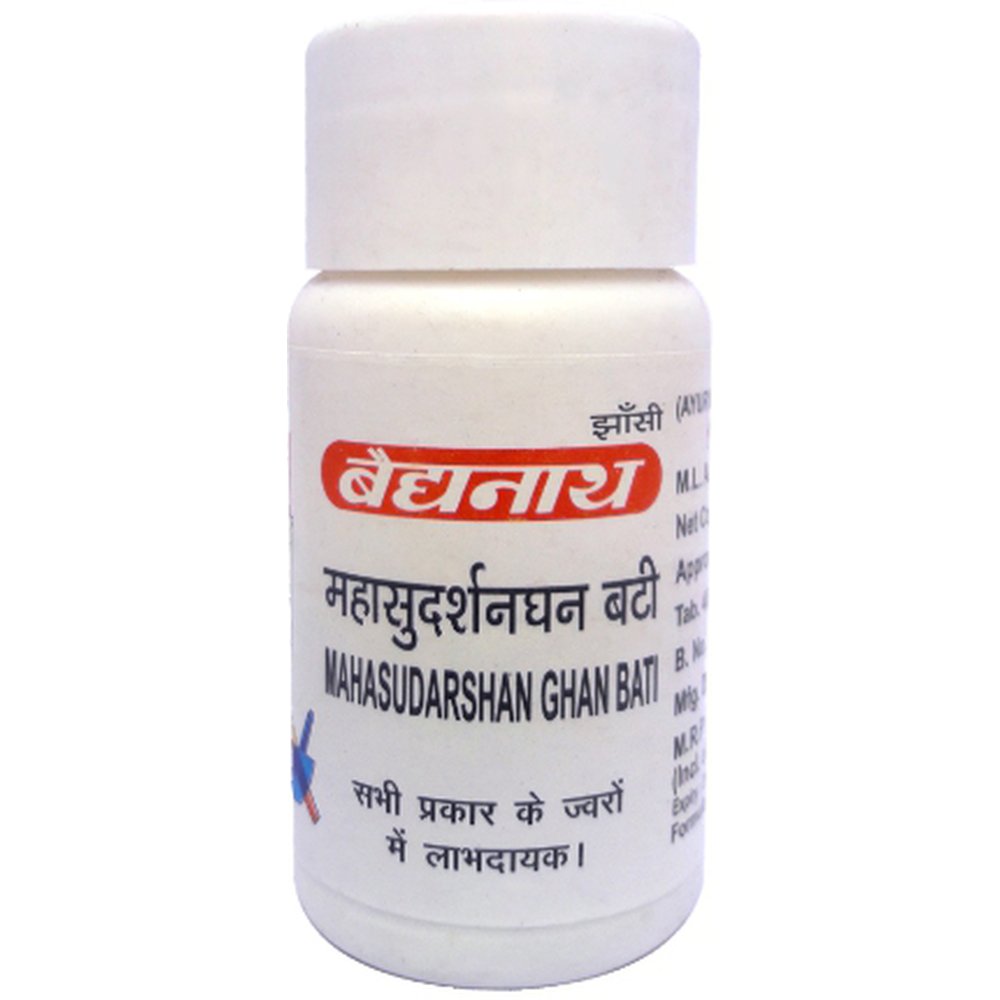 Baidyanath Mahasudarshan Ghan Vati (40tab) : Reduces Mild to High Temperatures, Respiratory Infections, Dyspepsia, Loss of Appetite
Also known as
Ghan Bati Mahasudarshan
Properties
Weight
23 (gms)
Dimensions
Dimensions: 3.7 x 3.7 x 7.6 cm
About Mahasudarshan Ghan Vati
Each Baidyanath product combines the best of Ayurveda with years of dedicated research; batch to batch performance and complete purity and safety are assured through the application of advanced pharmaceutical technology at every stage of manufacture; and ISO 9001: 2000 certification has been granted for the design, manufacture, and marketing of herbal health care products. Rare herbs are collected from the foothills of the Himalayas for the Baidyanath product line.
In addition to being effective for treating allergies, colds, coughs, and fever, Mahasudarshan Ghan Vati is a traditional Ayurvedic remedy that also helps with appetite loss.
Ingredients
Triphala
Haridra
Daruharidra
Kantakari
Brhati
Karcura
SUNTHI
Maricha
Pippali
Murva
Guduchi
Dhanvayasa
Katuka
Parpata
Musta
Trayamanag
Hrivera
Nimba(chhal)
Puskara
Yasti
Kutaja
Yavani
Indrayava
Bharangi
Sigru
Saurastri
VACA
Tvak
Padmaka
Svetacandana
Ativisa
Bala
Salaparn
Prsniparni
Vidanga
Tagara
Chitraka
DEVADARU
Cavya
Patola
Lavanga
Vamsa
Kamala
Ashwagandha
Tejapatra
Jatiphala
Sthauneya
Vidarikand
kiratatikta
Indications
Fever of all kinds
allergies, a cold, and a cough
respiratory infections that recur frequently, throat infections, and asthma
Appetite loss and dyspepsia
Nausea
Dosage
After meals, take 1-2 tablets with water, or take other medication your doctor has prescribed.
Precautions
Children must not have access to it.
Avoid exposing it to direct sunlight.
Limit your dosage.
Terms and Conditions
Before purchasing this medication, we have assumed that you sought medical advice and are not using it for self-medication.
Attributes
Brand
Baidyanath
Remedy Type
Ayurvedic
Country of Origin
India
Form Factor
Tablet
Price
₹ 130