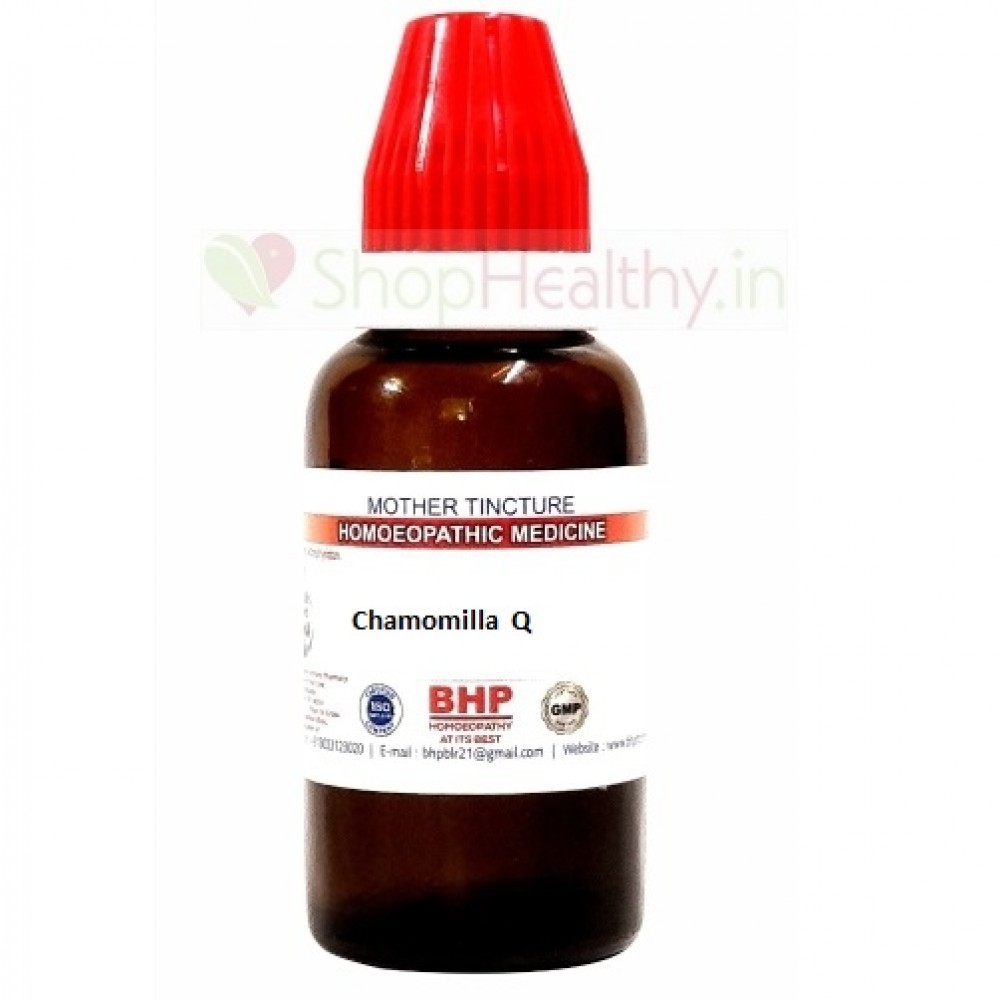 BHP Chamomilla 1X(Q) Mother Tincture (60ml)
Chamomilla **BHP
German chamomile, commonly known as
BHP Chamomilla causes and effects
When colic, irritability, and peevishness are the necessary symptoms of a child's illness, chamomilla is frequently used as a treatment. Chamomilla is also a popular remedy for infant colic and teething issues.
Baby may experience greenish, hot, very offensive diarrhoea during dentition that smells like rotten eggs and is unable to tolerate anyone near him or being spoken to. Baby is extremely irritable, cross, and uncivil.
When something warm is consumed, a person enters a warm room, drinks coffee, is menstruating or pregnant, or when there is a toothache, chamomilla is helpful. Toothaches are also relieved by rain.
Numbness is often accompanied by unbearable pains.
Additionally, chamomilla treats night sweats, convulsions in nursing children following a mother's rage attack, and earaches in teething children.
Additionally recommended is chamomilla for anger-related cramping, dyspepsia, belching, acidity, and other symptoms.
Additionally, it eases menstrual cramps and joint pain.
A patient with rheumatoid arthritis experiences excruciating pain that forces them out of bed at night and forces them to move around.
Joint discomfort and numbness are worse in hot, humid weather and improve in it.
Chamomilla is also beneficial for sciatica pain that is accompanied by numbness and burning soles.
Menstrual cramps are characterized by excruciating, spasmodic pain that tears up the upper body and down the legs.
Mind
Nervous system irritability and anger
Unreasonably sensitive to outside stimuli (such as light and noise).
(Acon., Coff., Hep., Nux-v.) Pain-sensitive
irate and aggressive when in pain.
unmanageable pain
Aggression and irritability.
Whining, complaining, and unease.
Impatient, irritable, and bad-tempered.
Easily agitated, sends the nurse and doctor away, and is argumentative.
unwillingness to listen to others or be spoken to.
rejection of touch and observation.
Capricious: When given something, discard it after asking for it.
Delusions of annoyances and offenses, believing that he has been insulted.
snoring while sobbing.
wind phobia
CHILDREN
(Unpredictable, abrupt changes in mood or behavior) Capricious
Kids want to be carried and are irate and angry.
When carried, kicks and stiffens.
Inconsolable.
Generalities
Warm-blooded.
Nighttime, narcotics, wind, and worse at 9 a.m. (9 p.m.).
With the exception of toothaches, warm applications are better.
Angry and irritated complaints.
Spasticity and cramps.
Following the mother's rage, children who are nursing experience convulsions.
beverages and food
Desire: chilly beverages
By coffee, worse.
Head
Morning headache made worse by the thought of it at nine o'clock.
Eye
Distortion.
batting eyes.
hot flames.
Ear
Ear pain and inflammation are caused by otitis media.
Heat eases pain, while wind, noise, and touch aggravate it.
Face
Jigging and twitching
head sweating while experiencing neuralgia
body cold and face heat.
sweating after consuming food or liquids.
**Mouth
Heats up.
Teeth**
Dentition that is painful and challenging,
Pain is relieved by cold beverages, made worse by warm beverages and food, by touching, by coffee during menstruation, and during pregnancy.
Stomach
Thirsty.
drugs, caffeine-induced nausea
Following rage, a fit.
Abdomen
Colic and flatulence are worsened by rage, touching, and periods, and are improved by warm treatments.
Rectum
diarrhea affecting the teeth
genitalia of women
Menstrual cramps that feel like they are in labor (Xanax); worse after feeling angry.
incredibly painful after.
when nursing, the child experiences cramps.
Respiration
spells that keep your breath.
anger-related asthma.
Cough
Angry cough that is dry and ticklish.
aggravating between 9 and 12 o'clock; while sleeping.
Children who have croup experience tracheal and laryngeal inflammation as well as breathing problems.
Extremities
Rheumatic discomfort forces you to leave your bed at night and go for a walk.
infants clenching their fists.
In the afternoon, the ankles give way.
The forearm becomes numb when you grasp something.
Drawn-in thumbs, arm cramps, and convulsions.
Sleep
Heat and agitation prevent you from sleeping.
Nightmares.
Skin
After being angry, biliousness
rude to nursing mothers and babies.
Nighttime itching
a touch sensitivity issue.
BHP Chamomilla side effects
Although there are no such side effects, it is still important to take each medication according to the instructions.
Even if you are taking other forms of medication, such as those obtained through allopathy, ayurveda, etc., it is safe to take the medication.
The effectiveness of other medications is never hampered by homeopathic remedies.
BHP Chamomilla dosage and guidelines
Three times per day, mix five drops in a half cup of water.
The globules can also be used as medicine; take them as directed by your doctor, usually three times per day.
We advise you to use medical advice when taking.
When taking BHP Chamomilla, take precautions
If you take medication, make sure to wait 15 minutes between eating and taking it.
Consult a homeopathic doctor prior to use if you are pregnant or nursing.
While taking medication, refrain from consuming alcohol or tobacco.
Rules and Regulations
The effectiveness of homeopathic remedies varies depending on the conditions and should be used based on symptom similarity.
Important Information: Use only after speaking to a licensed medical professional.
Attributes
Brand
BHP (Bangalore Homoeo Pharmacy)
Container Type
Glass Bottle
Shelf Life
5 Years From Date Of Manufacturing
Remedy Type
Homeopathic
Country of Origin
India
Homeo Forms
Mother Tincture
Potency
1X (Q) / Mother Tincture
Price
₹ 120