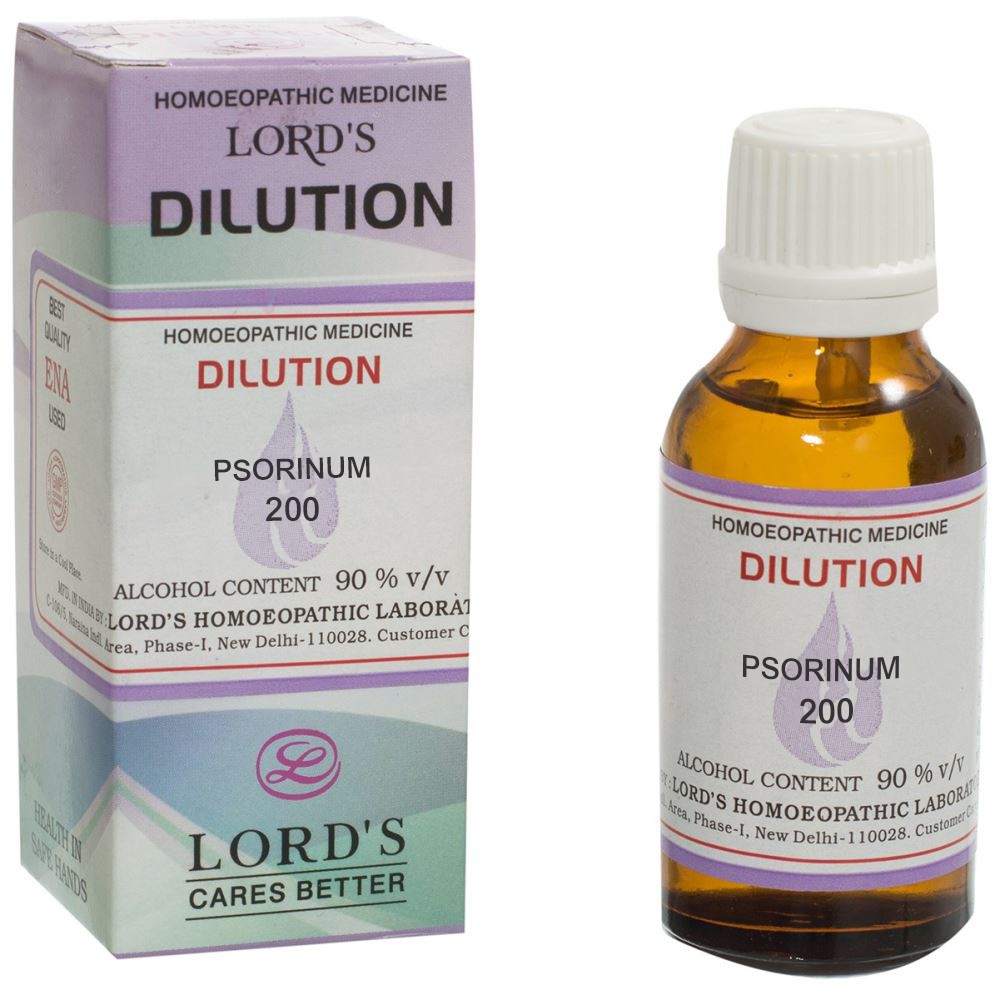 Lords Psorinum 200 CH (30ml) : Acne during menses, Skin eruptions, Itching, Dryness, Bloating, Breasts swollent
Also known as
sor and sorin
Properties
Potency
200 CH
Weight
84 (gms)
Dimensions
Four by four by nine millimeters
Lords Psorinum(Dilution)
Hahnemann applied a scabies vesicle's seropurulent substance.
Common Name: Psoria, scabies, and psoricum's nosodes
Causes & Symptoms for Lords Psorinum
Psoriasis is indicated by prostatic hyperplasia following acute illness accompanied by insomnia and night sweats.
Extreme sensitivity to changes in temperature, storms, and sunlight, as well as restlessness days before a thunderstorm.
Fats, sugar, coffee, and meat taste worse during the menstrual cycle.
Psorinum is used to treat skin eruptions that are itchy, dry, moist, or dirty and are made worse by the warmth of the bed.
Trembling results from every moral feeling.
Body and Mind
Mental fogginess, trouble thinking, restlessness, memory loss, irritable children who appear unhealthy and have a bad odor, and people who are easily startled are all symptoms of dementia.
After mental effort, a heavy, hammering headache across the brows and temple pain that is crampy and sharp will occur.
When it's hot outside, avoids having his head exposed by donning a fur hat.
nose, ear, and eyes
when looking at something closely in the evening and by candlelight, there is burning pain in the eyes.
Psorinum relieves the heat-induced itching of the inner canthi, right lower lid, right canthi, and left lower lid.
When eating or swallowing saliva, you might experience a buzzing in your ear or the sensation that something just burst.
Having the impression that his right ear belongs to someone else.
Nasal stoppage causes dry coryza, nearly dry nostrils, and sensitive nasal passages.
The left nostril is worse and is dripping clear, watery fluid.
Throat and Mouth
mouth corners with vesicles and larger, more visible sore spots above them.
Psorinum relieves the coughing caused by drinking when there is a swollen feeling in the palate and a dry mouth.
Only cold food can be consumed without difficulty due to soreness and swallowing difficulties.
The symptoms of psoriasis include morning throat tickling, coughing, and empty eructations.
belly and stomach
Pressure and weakness are present along with epigastric bloating and cramping.
Sticking in the pit of the stomach and eructations that taste like rotten eggs are symptoms of psoriasis.
Cutting in the evening, abdominal cramps in the morning while in bed, and inguinal pains that stick out
Psorinum alleviates stomach pain that occurs in the evening and improves eating, post-meal flatulence, and nausea.
Anus and Stool
Itching in the anus and sensitive hemorrhoids with rectum burning pains.
The symptoms of psoriasis include ineffective urging of soft, difficult stools and unconscious bowel movements at night.
urethral organs
Psorinum soothes burning and cutting pains experienced during urination.
Psorinum helps men who are experiencing prostatic fluid discharge prior to urination.
frequent nighttime urination.
issues that men have
Scrotal suppurating vesicle with severe pain and chronic, painless urethral discharge.
burning pain when starting to urinate at the tip of the penis.
women's grievances
Right above the groin, a delicate, knotty lump.
The worst itching is at night and extends from the anus to the vagina.
Psorinum relieves late or sparse menstruation that occurs as climaxis approaches.
Psorinum treats breast enlargement, red nipples, and pimples that are itchy, burning, and nearby the nipples.
Extremities
Toe spasms or cramps, weakening in the evening, and brittle nails are all symptoms of gout.
Psoriasis can be identified by the hands trembling, elbow bends erupting, and wrists swollen.
Every step in the morning causes my right ankle to stick.
Skin
Face skin that is rough and an eruption between the eyes on the forehead.
Pustules with sticking on the nape of the neck and painful itching on the right upper lip.
Vesicles with a yellow lump on the face, a sore spot on the forehead, and itchier papules.
Psorinum relieves burning beneath the eyes that feels like a heat rash and causes itching, sharp pain, and burning after scratching.
Warts the size of a pinhead on the left hand and fingers and a rash-like eruption on the face, hand, back, and leg.
Generalities
Legs and arms numb, and even the smallest motion causes sweating.
The body itches when it gets warm, which is a sign of psoriasis.
This treatment alleviates weakness caused by fluid loss following an acute illness.
coughing causes throat-extending pain under the sternum that feels like it might be torn off.
Psorinum is used to treat cardiac stitches when there is a weak pulse.
Side effects of Lords Psorinum
Although there are no such side effects, it is still important to take each medication according to the instructions.
Even if you are taking other forms of medication, such as those obtained through allopathy, ayurveda, etc., it is safe to take the medication.
The effectiveness of other medications is never hampered by homeopathic remedies.
Dosage and rules while taking Lords Psorinum
Three times per day, mix five drops in a half cup of water.
The globules can also be used as medicine; take them as directed by your doctor, usually three times per day.
We advise you to use medical advice when taking.
Precautions while taking Lords Psorinum
If you take medication, make sure to wait 15 minutes between eating and taking it.
Consult a homeopathic doctor prior to use if you are pregnant or nursing.
While taking medication, refrain from consuming alcohol or tobacco.
Terms and Conditions
The effectiveness of homeopathic remedies varies depending on the conditions and should be used based on symptom similarity.
Attributes
Brand
Lord's
Remedy Type
Homeopathic
Country of Origin
India
For Use By
Women / Female
Homeo Forms
Dilution
Potency
200 CH / 200CH
Price
₹ 90