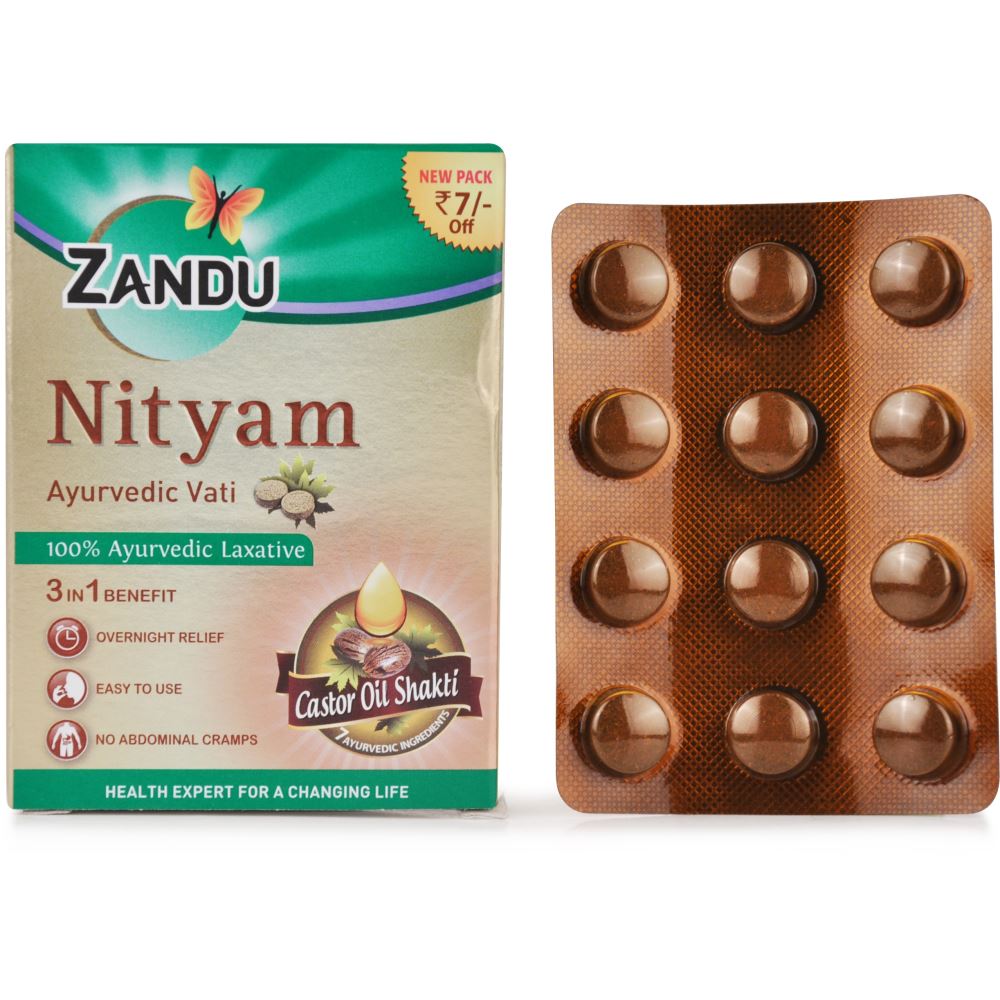 Zandu Nityam Tablet (10tab) : Deals with Constipation, Useful in Gas, Acidity, Indigestion and Flatulence
Weight
18 (gms)
Dimensions
1.5 by 7.5 by 10.5 centimeters
About Nityam Tablet
Nityam Tablet is a medication that treats a number of conditions, including chronic diarrhea, abdominal pain, stomachaches, constipation, and diarrhea.
Nityam Tablet's active ingredients include Triphala, Sarjikakshara, Castor Bean, Foeniculum Vulgare, Glycyrrhiza Glabra, Sanchal Powder, and Cassia Angustifolia.
Nityam Tablet functions by promoting colon peristalsis, inhibiting T-lymphocyte-mediated cytotoxicity, extending gastric emptying time, boosting humoral antibody production, reducing prostaglandin production and cyclooxygenase activity, delaying platelet aggregation, and containing saponin triterpenes, flavonoids, and other anti-inflammatory compounds.
Nityam Tablet – Composition and Active Ingredients
The following salts are the active ingredients in Nityam Tablet.
Angustifolia Cassia
Termite chebula
Glabra Glycyrrhiza
Triphala
Fornication Vulgare
Powdered Sanchal
Sarjikakshara
Cane toad
Nityam Tablet Uses
The following illnesses, conditions, and symptoms can all be improved with Nityam Tablet:
Constipation
stomach ache
Stomachache
Diarrhea
persistent diarrhea
Blood Cleanser
A Lack of Nerve
Easily Angry or Nervous
persistent cough
stiff neck
ASTHMA
digestive acid
Heartburn
Indigestion
Ulcer
Allergy rhinitis
Conjunctivitis
Cleansing of the body
Immunity-Boosting Supplement
spasm of muscles
Diuresis
Inflammation
pain
Hyperoxic Stress
encourages breastfeeding
digestive gas
elevated blood pressure
Vomiting Acid
Digestion
vision issues
Colic in children
Nityam Tablet Working, Mechanism of Action and Pharmacology
By carrying out the following actions, Nityam Tablet helps the patient's condition:
the colon's peristalsis being activated.
increasing the time it takes for the stomach to empty and the production of humoral antibodies.
Having anti-inflammatory properties, inhibiting the production of prostaglandins and cyclooxygenase, delaying platelet aggregation, inhibiting the activity of the tyrosinase enzyme, and inhibiting the production of prostaglandins. It also contains saponin triterpenes, flavonoids, and other constituents like coumarins, sugars, amino acids, tannins, starch, choline, and phytosterols.
the intestine's ability to contract again.
calming the bowels and lowering the secretions from the respiratory tract.
improving immunity and the gastrointestinal tract.
making a calming impact.
encouraging bowel movements within 6–12 hours.
Nityam Tablet – Side-effects
Consult your doctor if you experience any of the following side effects, especially if they persist. The following is a list of potential adverse reactions that could arise from all of the ingredients that make up Nityam Tablet. These reactions are possible, but they do not always happen. Some of the adverse reactions may be uncommon but serious.
Sodium And Water Retention
Tiredness
Women Who Do Not Experience Periods
headache
diminished interest in men sexually
Nausea
Nityam Tablet – Precautions & How to Use
Tell your doctor about all of your current medications, over-the-counter products (such as vitamins, herbal supplements, etc.), allergies, pre-existing conditions, and current health conditions (such as pregnancy, impending surgery, etc.) before using this medication. Some health conditions may make you more susceptible to the side-effects of the medication. Take as directed by your doctor or adhere to the directions printed on the product insert. Dosage is based on your condition.
the use of alcohol
diseases of the blood
Breastfeeding
Hypertonia
the eating of ice cream
consume meat
Terms and Conditions
Before purchasing this medication, we have assumed that you sought medical advice and are not using it for self-medication.
Attributes
Brand
Zandu
Remedy Type
Ayurvedic
Country of Origin
India
Form Factor
Tablet
Price
₹ 32