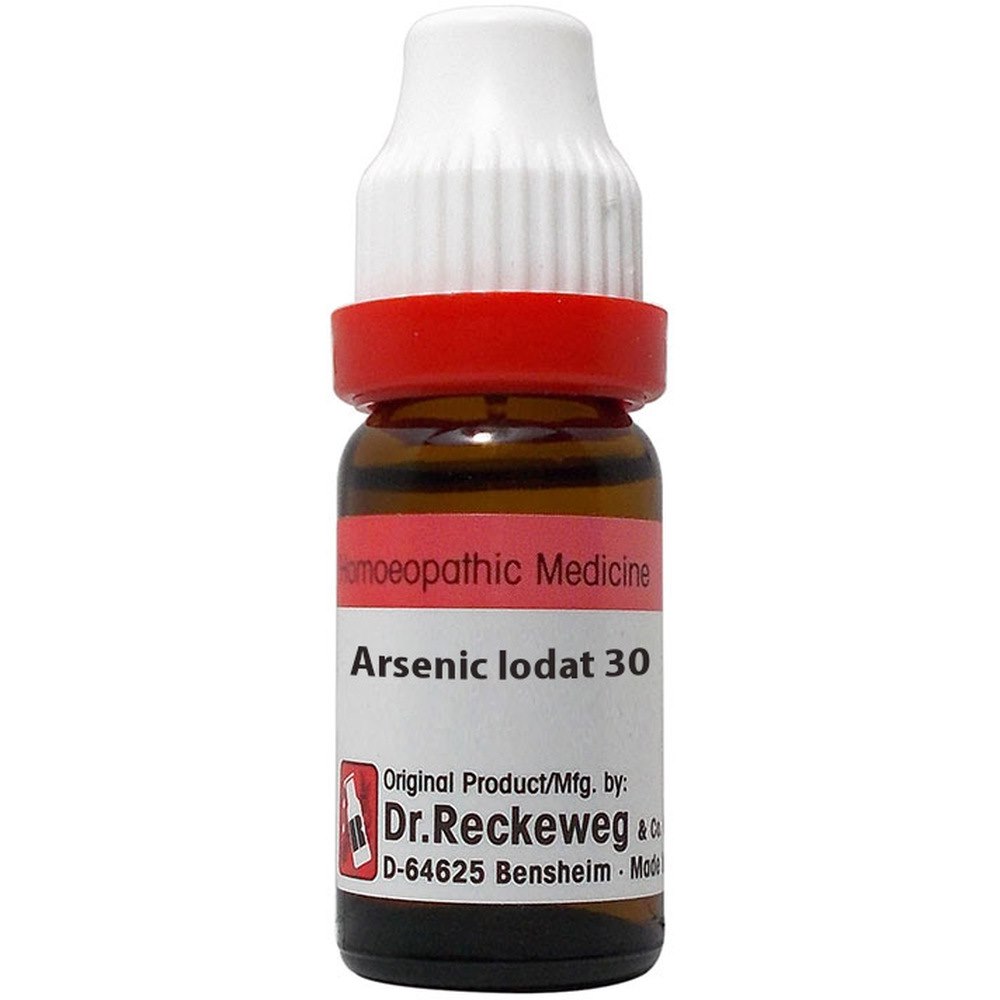 Dr. Reckeweg Arsenic Iodatum 30 CH (11ml) : Lowers High Body Temperature, Cough, Acne, Ear, Lung Infection, Stammering
Also known as
Iod Ars
Properties
Potency
30 CH
Form
Liquid
Weight
40 (gms)
Dimensions
3, 2, 3, and 7.4 millimeters
Dr. Reckeweg Arsenic Iodatum
Common Name: Arsenic iodide
Causes & Symptoms for Dr. Reckeweg Arsenic Iodatum
For discharges that irritate both the membrane from which they flow and the membrane they flow over, arsenic iodatum is the preferred treatment option.
The mucous membrane is always red, angry, swollen, itchy, and burning and the discharge may be fetid or watery.
Flu, old nasal catarrhs, middle ear catarrh, and swollen nasal tissues are all conditions for which arsenic iodatum is prescribed.
Arsenic Iodatum should be used when a patient exhibits profound prostration, a rapid, irritable pulse, recurrent fever and sweats, emaciation, and a propensity for diarrhea.
Arsenic Iodatum effectively relieves night sweats and chronic lung ailments such as abscesses in the lung, hectic, debility, and a fever.
Additionally, keep arsenic iodatum in mind if you have phthisis, which is characterized by a persistent, watery diarrhea, a persistent, hoarse cough, and profuse expectoration of a purulent nature.
When there is amenorrhoea, anaemic palpitations, and dyspnea, as well as emaciation with a good appetite, arsenic iodatum is a good option.
Head
For vertigo and trembling, especially in the elderly, arsenic iodatum is recommended.
Nose
Arsenic Iodatum relieves ulcers, excessive thick, yellow discharge, swollen nose, itching and tingling of the nose, and sneezing that is accompanied by a high temperature.
Burning, acidic coryza responds well to arsenic iodatum.
Throat
Arsenic Iodatum is an effective treatment for glandular growths, burning in the pharynx, swollen tonsils, thick membrane from the mouth to the fauces, and fetid breath.
Eyes
Scrofulous ophthalmia is treated with arsenic iodatum.
Ears
Arsenic Iodatum provides effective relief for otitis with fetid, corrosive discharge.
Stomach
For complaints of nausea that is distressing, vomiting an hour after eating, epigastric pain, and intense thirst, arsenic iodatum is recommended; water is immediately ejected.
Respiratory
With dry and blocked nostrils and a mildly hacking cough, arsenic iodatum provides relief.
Skin
Arsenic Iodatum is recommended for dry, scaly skin that itches, incapacitating night sweats, and beard eczema that is watery, oozing, and itchy and gets worse after washing.
Arsenic Iodatum alleviates emaciation, psoriasis, and acne that has a hard, shotty base and an indurated pustule at the apex.
Side effects of Dr. Reckeweg Arsenic Iodatum
Although there are no such side effects, it is still important to take each medication according to the instructions.
Even if you are taking other forms of medication, such as those obtained through allopathy, ayurveda, etc., it is safe to take the medication.
The effectiveness of other medications is never hampered by homeopathic remedies.
Dosage and rules while taking Dr. Reckeweg Arsenic Iodatum
Three times per day, mix five drops in a half cup of water.
The globules can also be used as medicine; take them as directed by your doctor, usually three times per day.
We advise you to use medical advice when taking.
Terms and Conditions
Homeopathic medicines have a variety of uses and are prescribed based on symptom similarity; it is assumed that you have sought medical advice before purchasing this medication and are not self-medicating.
Attributes
Brand
Dr. Reckeweg
Remedy Type
Homeopathic
Country of Origin
Germany
Homeo Forms
Dilution
Potency
30 CH / 30CH
Price
₹ 125