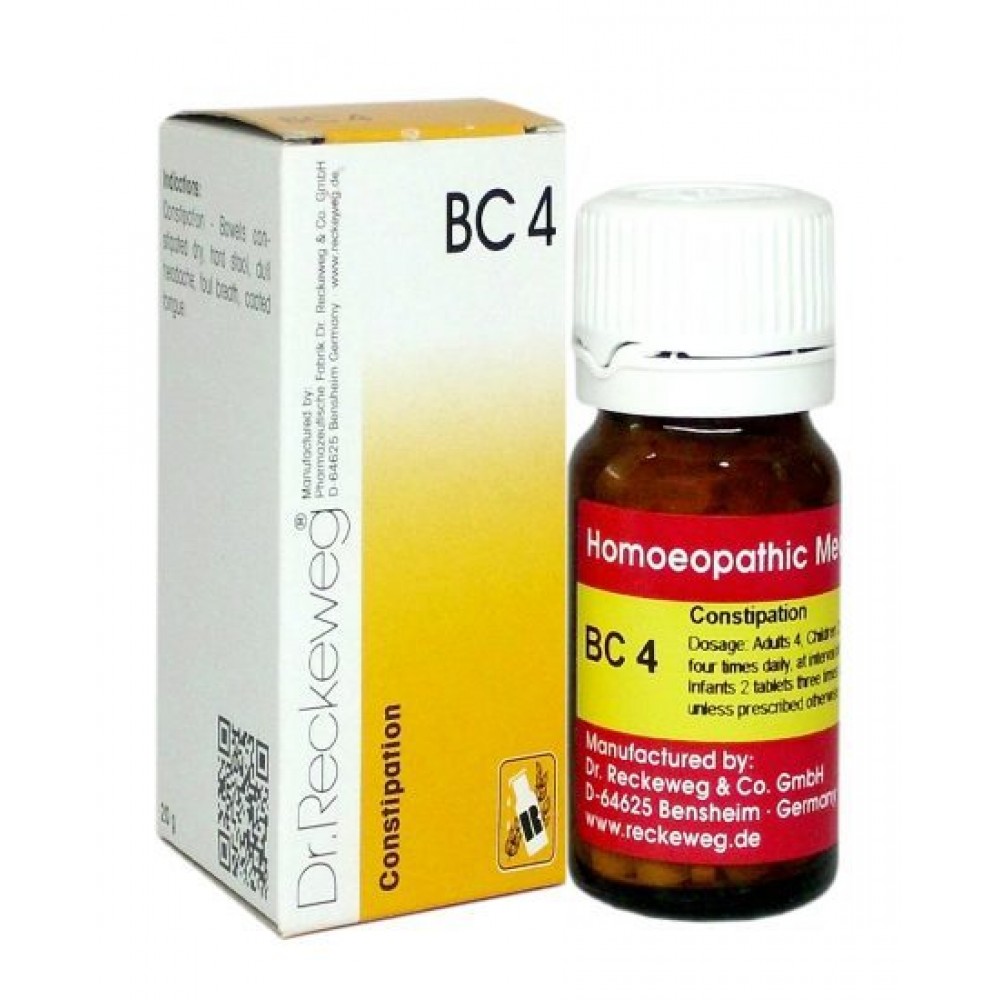 Dr. Reckeweg Bio Combination 4 (BC 4) Tablet 20gm
Dr. Reckeweg Bio-Combination 4 Tablet, which is indicated for bowels constipated without clear cause, liver torpidity, dry, hard, and black stools associated with dull headaches, foul breath, and coated tongue, works best when combined with lifestyle changes to help keep the distressing complaint at bay.
Important elements:
Fluorescing calcium
Muriatic acid, kalium
Muriatic acid, natrum
Silicea
Major advantages:
aids those who experience painful and difficult constipation, where their bowels only move once every two or three days instead of on a daily basis.
minimizes a person's itch caused by pinworms
more attention should be paid to ensuring regular evacuation in elderly and weak patients, who are more prone to developing a mass of faces in the rectum that can be prevented by taking Biocombination 4 on a regular basis.
aids in the treatment of improper intestinal fluid, which may also result from weak muscles that control movement.
Useful instructions
Four times a day, at three-hour intervals, adults take four tablets and kids take two tablets.
Observations on safety
During the course, refrain from consuming alcohol or tobacco.
Keep children's reach away from this.
use as directed by a physician
Before using, closely examine the label.
When taking the medication, keep strong mouth odors like those from coffee, onions, hing, mint, camphor, and garlic to a minimum.
Food, drink, and other medications should be avoided for at least 30 minutes before taking any allopathic medication.
Attributes
Brand
Dr. Reckeweg
Container Type
Bottle
Shelf Life
Long Life
Remedy Type
Homeopathic
Country of Origin
Germany
Form Factor
Tablet
Suitable For
Veg / Vegetarian
Price
₹ 185