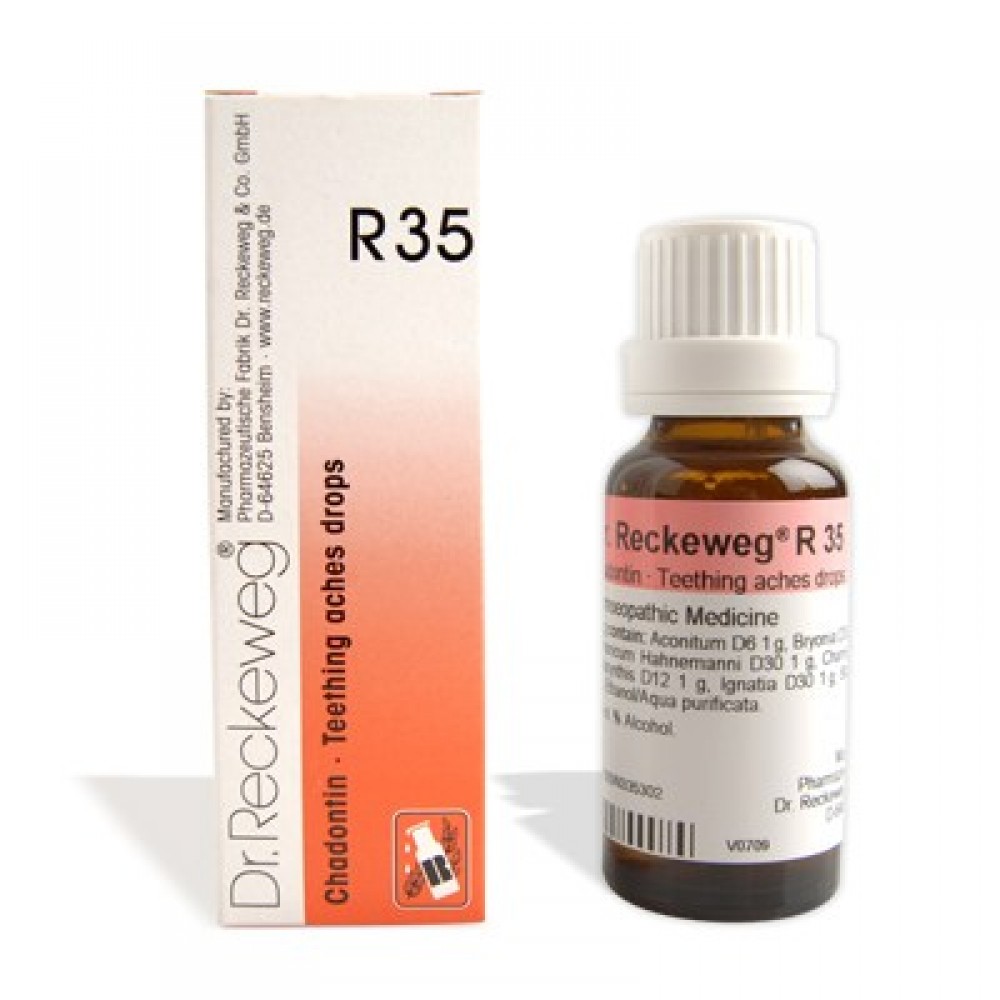 Dr. Reckeweg R35 Teething Aches Drops 22ml
DR. R35 RECKEWEG
Teething Pains Decline
INDICATIONS
Dental pain and delayed teething are both unpleasant.
Principal Ingredients' Mode of Action
Its constituents' potentiated actions are what cause the therapeutic effects.
Aconitum: toothaches that coincide with or alternate with feverish conditions, illnesses that are caused by chills in one way or another, excitement, and a propensity to cry.
Bryonia: skin irritation in serous tissues.
Calcium carbonicum Hahnemanni: acts to promote teething by influencing tooth development.
Colocynthis: Anger outbursts that are violent are associated with highly charged situations.
Ignatia: constant whimpering and nervous excitement during hysterical reactions
Staphisagria: Nervousness and inappropriate behavior in kids who cry and moan constantly.
It is advisable to check the ears at the same time (otitis media) because R35's action reduces the pains and inflammation that appear suddenly in a number of excitation-related conditions and frequently precede illnesses brought on by a chill, such as bronchitis, eventually also before measles.
How to Use: Little ones can be given a teaspoonful from a dilution of about 40–50 drops in 12 cups of water every 5–10 minutes if they are experiencing acute cases, which is almost exclusively how the product is used.
* For pain caused by hollow teeth, administer a small amount of cotton wool soaked in a small amount of this product in pure form. This is especially effective with older children and in less severe cases when 10-15 drops, frequently, in a little water.
Important Information: use as directed by a physician
Attributes
Brand
Dr. Reckeweg
Container Type
Bottle
Shelf Life
Long Life
Remedy Type
Homeopathic
Country of Origin
Germany
Form Factor
Drops
For Use By
Children
Suitable For
Veg / Vegetarian
Price
₹ 250