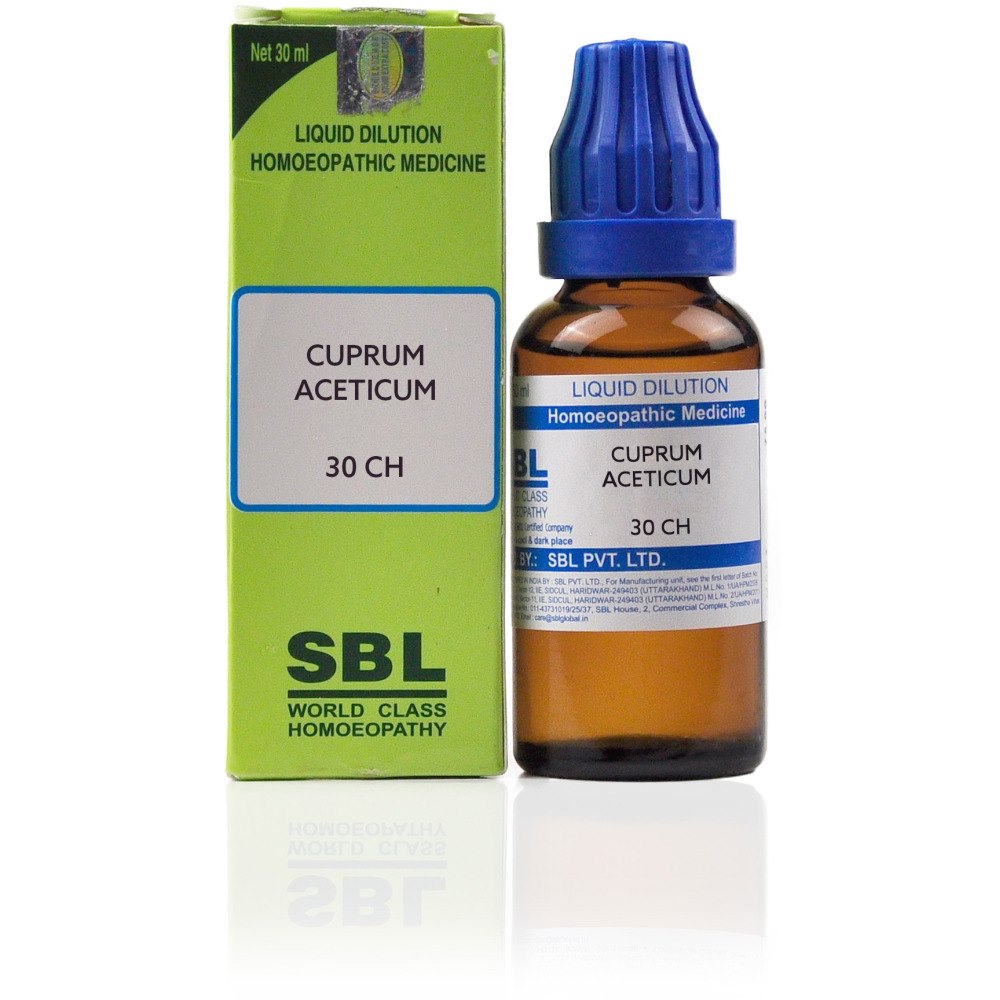 SBL Cuprum Aceticum 30 CH (30ml) : For cramps, convulsions, nerve pains, headache, facial pains
Also known as
Acet Cup
Properties
Potency
30 CH
Form
Liquid
Weight
82 (gms)
Dimensions
3.5 cm by 3.5 cm by 9.5 cm
Cuprum Aceticum(Dilution)
Common Name: Copper acetate and verdigris
Causes & Symptoms for Cuprum Aceticum
Convulsions, clonic spasms, boring, screwing, and other types of pain.
Right foot toes experience a severe, long-lasting tonic spasm that is triggered by friction and cold floors.
Body and Mind
Vertigo that is both noticeable and persistent; general decline in brain functions.
Neuralgia that causes headaches, temple and forehead stinging, burning, and stitching.
a heavy head and a lot of confusion
Throat and Mouth
Cuprum Aceticum provides relief for facial neuralgia in the right ear behind it, upper jaw, and cheekbone.
Tonsillitis is improved by chewing, applying pressure, and receiving external heat.
belly and stomach
Abdominal and stomach pain that is sharp and spasmodic, with violent pressure and gripping.
Bloody vomiting followed by frequent retching, along with burning nausea that rises from the stomach to the throat.
The use of Cuprum Aceticum can stop frequent, loose vomiting that usually occurs after consuming alcohol.
Extremities
Cuprum Aceticum helps with the difficulty of standing and walking while having hands that are perpetually cold and bluish-black in the winter.
The left hand is numb and limp, and there are cramps in the limbs as well as convulsive movements.
Skin
Cuprum Aceticum relieves an eruption that covers the entire body without itching.
Generalities
Dyspnea, spasmodic chest constriction, and sudden, recurrent attacks are all symptoms.
Heat and movement exacerbate the symptoms, which are treated with Cuprum Aceticum for extremity cramps.
Sensitivity loss, limb and body stiffness.
Side effects of Cuprum Aceticum
Although there are no such side effects, it is still important to take each medication according to the instructions.
Even if you are taking other forms of medication, such as those obtained through allopathy, ayurveda, etc., it is safe to take the medication.
The effectiveness of other medications is never hampered by homeopathic remedies.
Dosage and rules while taking Cuprum Aceticum
Three times per day, mix five drops in a half cup of water.
The globules can also be used as medicine; take them as directed by your doctor, usually three times per day.
We advise you to use medical advice when taking.
Precautions while taking Cuprum Aceticum
If you take medication, make sure to wait 15 minutes between eating and taking it.
Consult a homeopathic doctor prior to use if you are pregnant or nursing.
While taking medication, refrain from consuming alcohol or tobacco.
Terms and Conditions
Homeopathic medicines have a variety of uses and are prescribed based on symptom similarity; it is assumed that you have sought medical advice before purchasing this medication and are not self-medicating.
Attributes
Brand
SBL Dilutions
Remedy Type
Homeopathic
Country of Origin
India
Homeo Forms
Dilution
Potency
30 CH / 30CH
Price
₹ 90