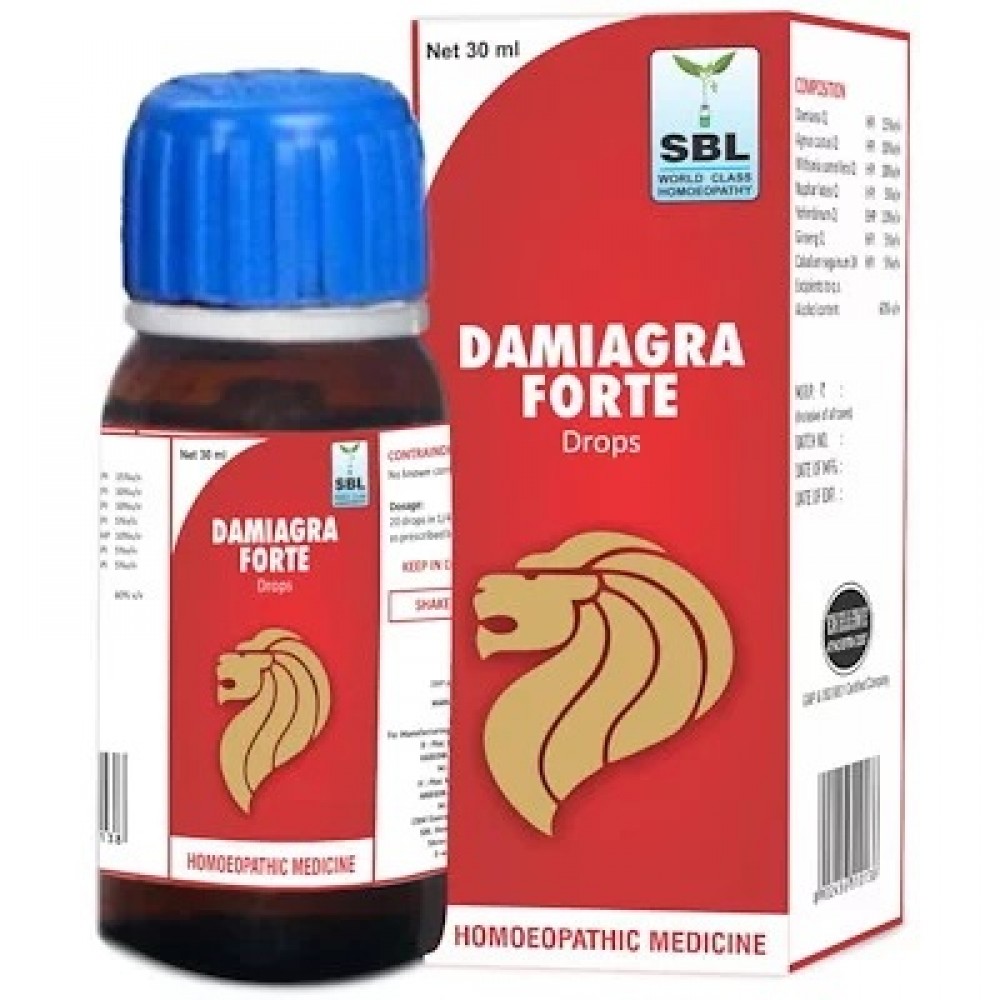 Sbl Damiagra Forte Drops(30ml)
Damiagra Forte by SBL Arrives
Damiagra is another name for it.
signs of a drop in the dosage of Damiagra Forte
To Increase Vitality and Vigor (Only for Men)
Drops of Damiagra Forte are made of what?
Damiana Q: powerlessness, ejaculation that occurs too early, and erection.
Agnus castus Q: No erections; parts are cold and relaxed; desire is gone; scanty emission without ejaculation; it lowers sexual vitality and is accompanied by mental depression and a loss of nervous energy.
Withania somnifera Q: It reduces stress, boosts immunity, and increases energy, which all work to lessen the debility and weakness brought on by a lack of vitality.
Nuphar lutea Q: It aids in sperm production, treats erectile dysfunction, speeds up time, and lessens weakness.
Yohimbinum Q: As a potent stimulant of male genital functions, it is useful in conditions where the sexual organs are congested and aids in enhancing sexual desire.
Ginseng Q: helps with ejaculatory and erection complaints as well as sperm count improvement.
Caladium seguinum 3X: Erections when half-asleep; cease when fully awake. Coldness of individual parts and propensity to lie down, with aggravation when doing so on the left side.
DOSAGE
20 drops four times a day in a quarter cup of water, or as directed by a doctor
Caution
Use while under a doctor's care.
Attributes
Brand
SBL
Container Type
Bottle
Shelf Life
60 months
Remedy Type
Homeopathic
Country of Origin
India
Form Factor
Drops
Suitable For
Veg / Vegetarian
Price
₹ 365