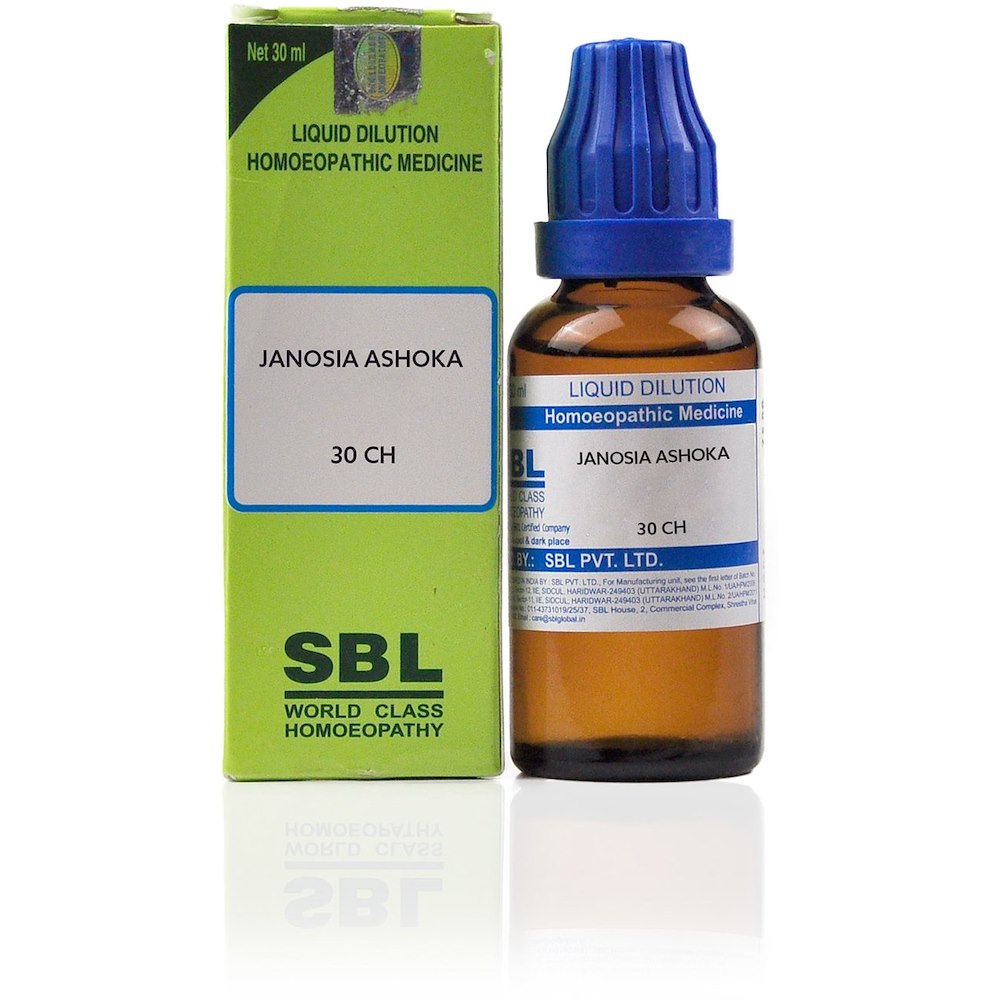 SBL Janosia Ashoka 30 CH (30ml) : For painful menses, Cysts of ovary, excess thirst, bleeding Piles
Also known as
Ashoka
Properties
Potency
30 CH
Weight
82 (gms)
Dimensions
3.5 cm by 3.5 cm by 9.5 cm
Janosia Ashoka(Dilution)
Common Name: Jonosia Asoca, the Indian tree's bark, and Ashoka
Causes & Symptoms for Janosia Ashoka
As a nourishing tonic for the uterus, Asoka is helpful for uterine colic and disorders associated with the menstrual cycle.
It helps with painful discharges and delayed menstrual cycles.
Body and Mind
This treatment is indicated when uterine pathology causes headaches.
Open space and free flow are better for congestion headaches.
nose, ear, and eyes
The lack of smell is accompanied by eye pain and nasal discharge that is watery.
belly and stomach
The symptoms of Janosia Ashoka include excessive nausea and thirst.
useful for complaints of acid reflux.
Janosia Ashoka helps to reduce bloating.
Anus and Stool
effective for bleeding piles
bladder issues
Janosia Ashoka examines urination that is sluggish and challenging.
women's grievances
Ashoka is effective in treating ovarian cysts and irregular periods.
Back and Neck
Janosia Ashoka is effective at reducing back pain that travels to the neck and thighs.
Generalities
This medication helps with nighttime insomnia.
Side effects of Janosia Ashoka
Although there are no such side effects, it is still important to take each medication according to the instructions.
Even if you are taking other forms of medication, such as those obtained through allopathy, ayurveda, etc., it is safe to take the medication.
The effectiveness of other medications is never hampered by homeopathic remedies.
Dosage and rules while taking Janosia Ashoka
Three times per day, mix five drops in a half cup of water.
The globules can also be used as medicine; take them as directed by your doctor, usually three times per day.
We advise you to use medical advice when taking.
Precautions while taking Janosia Ashoka
If you take medication, make sure to wait 15 minutes between eating and taking it.
Consult a homeopathic doctor prior to use if you are pregnant or nursing.
While taking medication, refrain from consuming alcohol or tobacco.
Terms and Conditions
Homeopathic medicines have a variety of uses and are prescribed based on symptom similarity; it is assumed that you have sought medical advice before purchasing this medication and are not self-medicating.
Attributes
Brand
SBL Dilutions
Remedy Type
Homeopathic
Country of Origin
India
Homeo Forms
Dilution
Potency
30 CH / 30CH
Price
₹ 85