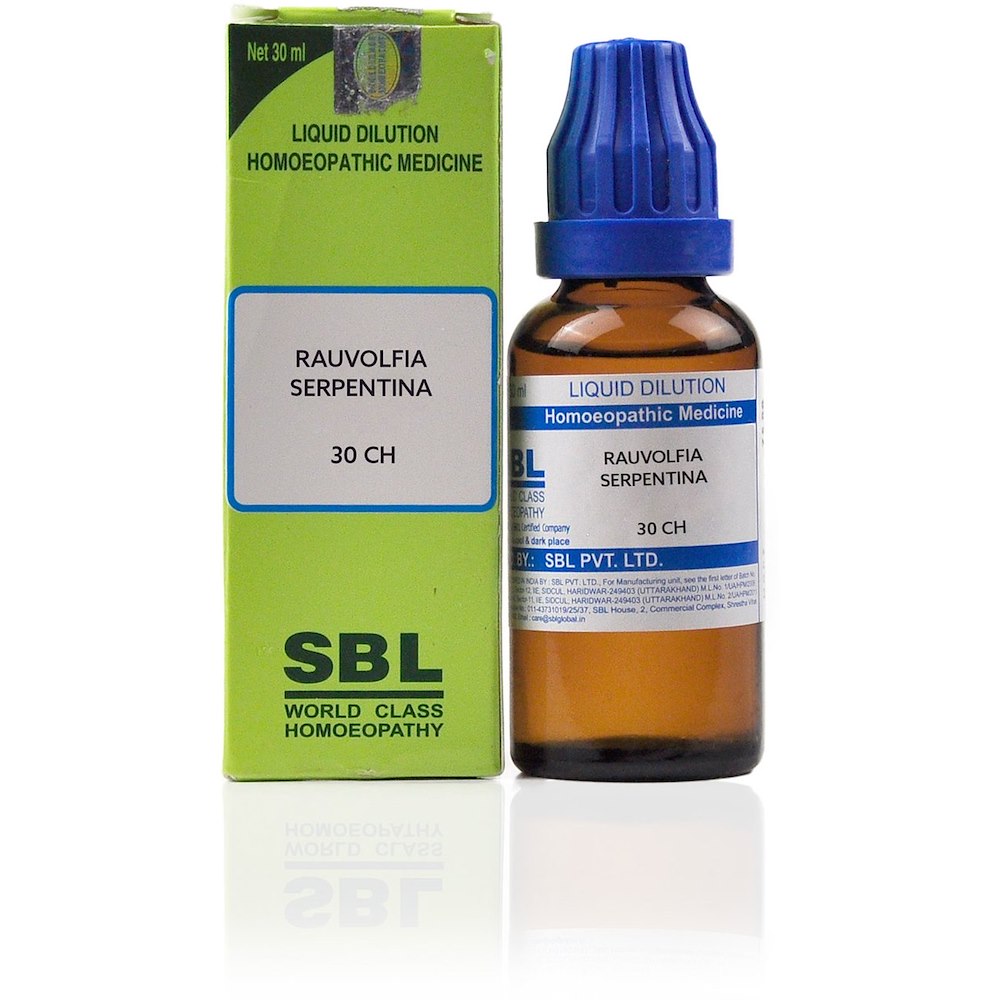 SBL Rauvolfia Serpentina 30 CH (30ml) : Regulates High Blood Pressure,Palpitation,Restlessness,Sleeplessnesst
Also known as
rauwolfia
Properties
Potency
30 CH
Weight
82 (gms)
Dimensions
3.5 cm by 3.5 cm by 9.5 cm
SBL Rauvolfia Serpentina(Dilution)
Common Name: Indian Snakeroot
Causes & Symptoms for SBL Rauvolfia Serpentina(Dilution)
Roots of Rauwolfia Serpentina are used to soothe the nervous system and help with anxiety reduction.
The main complaints it is used for are high blood pressure and symptoms that go along with it.
Action of SBL Rauvolfia Serpentina(Dilution)
Reserpine, a substance with antipsychotic and antihypertensive properties, is Rauwolfia Serpentina's primary active ingredient.
Mind: Aggression, crying, running, beating, and lack of sleep are all symptoms of various mental disorders that Rauwolfia serpentina helps to treat.
Stool: Rauwolfia serpentina helps to lessen Dysentry complaints by lowering the frequency of loose stools, stopping bleeding, and reducing pain.
Female: It modulates blood flow during menstruation, which lessens cramps and throbbing pain, and it lessens pains experienced during menstrual periods.
Heart: The herb Rauwolfia serpentina, which contains the sedative reserpine, can be used to manage and lower blood pressure.
Sleep: It aids in sleep induction and complaints of insomnia.
Generalities: Infections with fungi and worm infestation both benefit from the use of Rauwolfia serpentina.
Side effects of SBL Rauvolfia Serpentina(Dilution)
It's possible to feel sleepy, lightheaded, exhausted, sick to your stomach, vomit, throw up, have a slow heartbeat, and have a stuffy nose.
Dosage and rules while taking SBL Rauvolfia Serpentina (Dilution)
In 1/4 cup of water, mix 5 drops of Rauwolfia serpentina three times per day.
Interactions and Reactions of SBL Rauvolfia Serpentina (Dilution)
Due to its potential to cross the placental barrier, Rauwolfia Serpentina is probably not safe to consume during pregnancy.
If you have peptic ulcers, gastritis, or bowel diseases, you shouldn't take it carefully.
Terms and Conditions
Homeopathic medicines have a variety of uses and are prescribed based on symptom similarity; it is assumed that you have sought medical advice before purchasing this medication and are not self-medicating.
Attributes
Brand
SBL Dilutions
Remedy Type
Homeopathic
Country of Origin
India
Homeo Forms
Dilution
Potency
30 CH / 30CH
Price
₹ 90