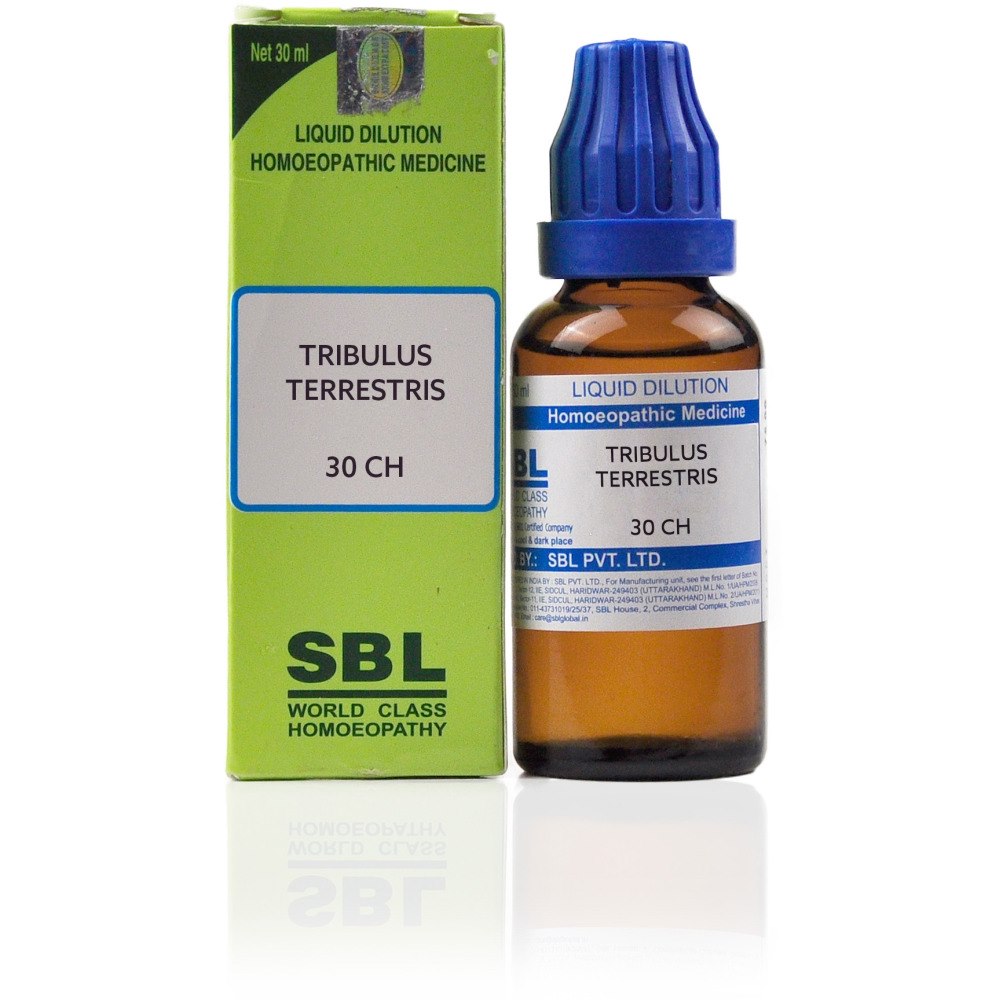 SBL Tribulus Terrestris 30 CH (30ml) : Regulates hormones in men, women, builds body mass, Reduces stress
Also known as
Trinity T
Properties
Liquid
Weight
82 (gms)
Dimensions
3.5 cm by 3.5 cm by 9.5 cm
SBL Tribulus Terrestris (Dilution)
Ikshugandha is its common name.
Causes & Symptoms for SBL Tribulus Terrestris
Tribulus Terrestris is effective at controlling the flow of male hormone and regaining strength.
Enhancing muscle mass, recovery time from physical exertion, and work efficiency are all benefits.
Tribulus Terrestris aids in the treatment of spermatorrhoea and erectile dysfunction complaints.
The medication that aids in ovulation and improves mood swings during menopause or the premenstrual period is used to monitor the regulation in females.
Tribulus Terrestris enhances blood circulation and aids in lowering blood pressure.
It encourages weight gain and aids in immune system stimulation and strengthening.
This medication helps to lessen complaints related to the prostate.
Tribulus Terrestris works well for fatigue and low energy, lessens complaints of insomnia, and enhances sleep.
In order to help fight emaciation, the medication makes it easier for fats to be converted into energy.
As an all-purpose tonic, t. terrestris is used.
Side effects of SBL Tribulus Terrestris(Dilution)
Although there are no such side effects, it is still important to take each medication according to the instructions.
Dosage and rules while taking SBL Tribulus Terrestris
3 times a day, mix 5 drops with 1/4 cup of water.
The globules can also be used as medicine; take them as directed by your doctor, usually three times per day.
We advise you to use medical advice when taking.
Terms and Conditions
Homeopathic medicines have a variety of uses and are prescribed based on symptom similarity; it is assumed that you have sought medical advice before purchasing this medication and are not self-medicating.
Attributes
Brand
SBL Dilutions
Remedy Type
Homeopathic
Country of Origin
India
For Use By
Women / Female
Homeo Forms
Dilution
Potency
30 CH / 30CH
Price
₹ 90