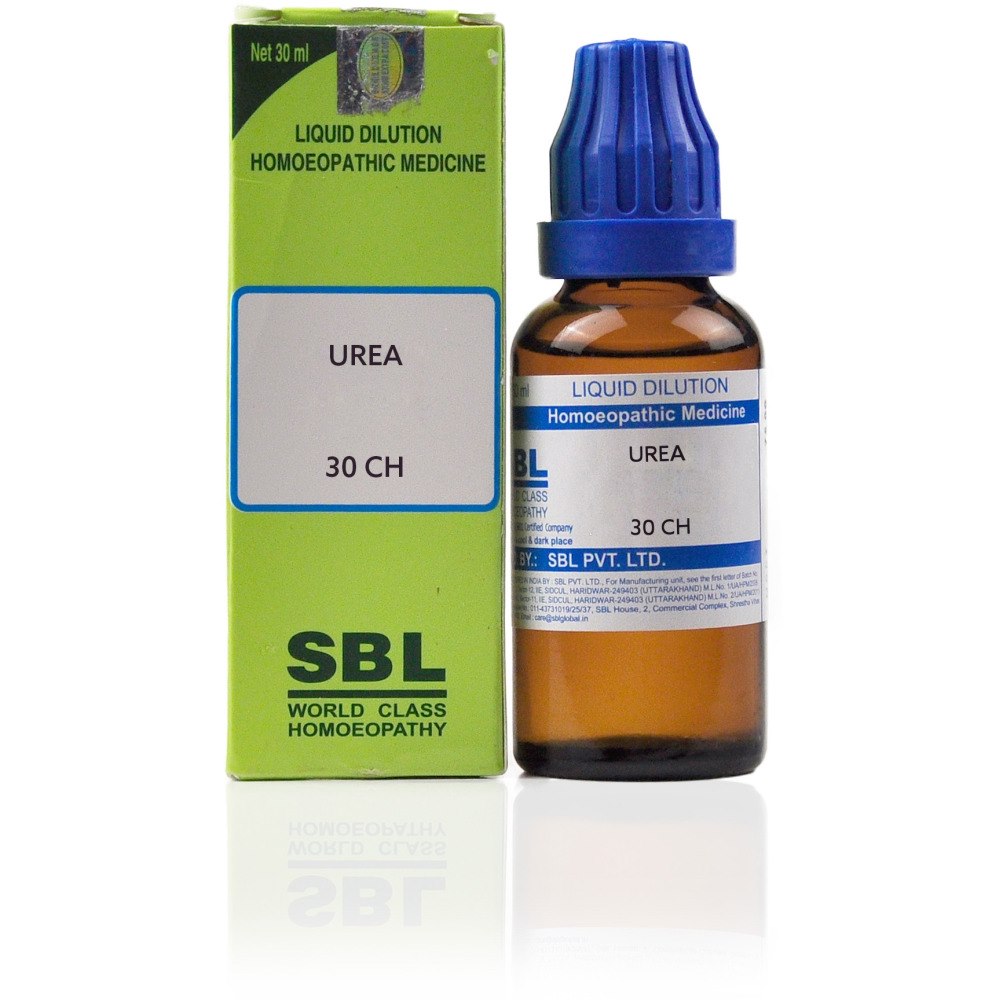 SBL Urea 30 CH (30ml) : Acts spleen, liver, frequent urination, painful urination, Albuminuria
Properties
Potency
30 CH
Form
Liquid
Weight
82 (gms)
Dimensions
3.5 cm by 3.5 cm by 9.5 cm
Urea(Dilution)
Urea nitrica, a nitrate-containing tincture or solution
the main solid element found in mammalian urine.
Common Name: Carbamide.
Causes & Symptoms for Urea
It has diuretic properties and is used for renal calculus, pleurisy, and liver cirrhosis.
It calms itchiness and excessive eye watering as well as cutaneous gouty eczema.
The lymph, secreting glands, and spleen are all affected by it.
This remedy should be used when the stomach pain becomes intolerable and the skin starts to burn.
Urea is a homeopathic remedy that relieves frequent urges to urinate and suffocation attacks.
Brown urine, albuminous urine, nose bleeding, and uremia are all symptoms of urea.
Urea soothes a head that feels as though it is filled with a huge lump.
bladder issues
Urine with a lot of sediment and persistent urging are signs of urea.
The remedy relieves groin-to-bladder tearing pain, which is worse when standing.
Side effects of Urea
Although there are no such side effects, it is still important to take each medication according to the instructions.
Even if you are taking other forms of medication, such as those obtained through allopathy, ayurveda, etc., it is safe to take the medication.
The effectiveness of other medications is never hampered by homeopathic remedies.
Dosage and rules while taking Urea
Three times per day, mix five drops in a half cup of water.
The globules can also be used as medicine; take them as directed by your doctor, usually three times per day.
We advise you to use medical advice when taking.
Precautions while taking Urea
If you take medication, make sure to wait 15 minutes between eating and taking it.
Consult a homeopathic doctor prior to use if you are pregnant or nursing.
While taking medication, refrain from consuming alcohol or tobacco.
Terms and Conditions
Homeopathic medicines have a variety of uses and are prescribed based on symptom similarity; it is assumed that you have sought medical advice before purchasing this medication and are not self-medicating.
Attributes
Brand
SBL Dilutions
Remedy Type
Homeopathic
Country of Origin
India
Homeo Forms
Dilution
Potency
30 CH / 30CH
Price
₹ 85