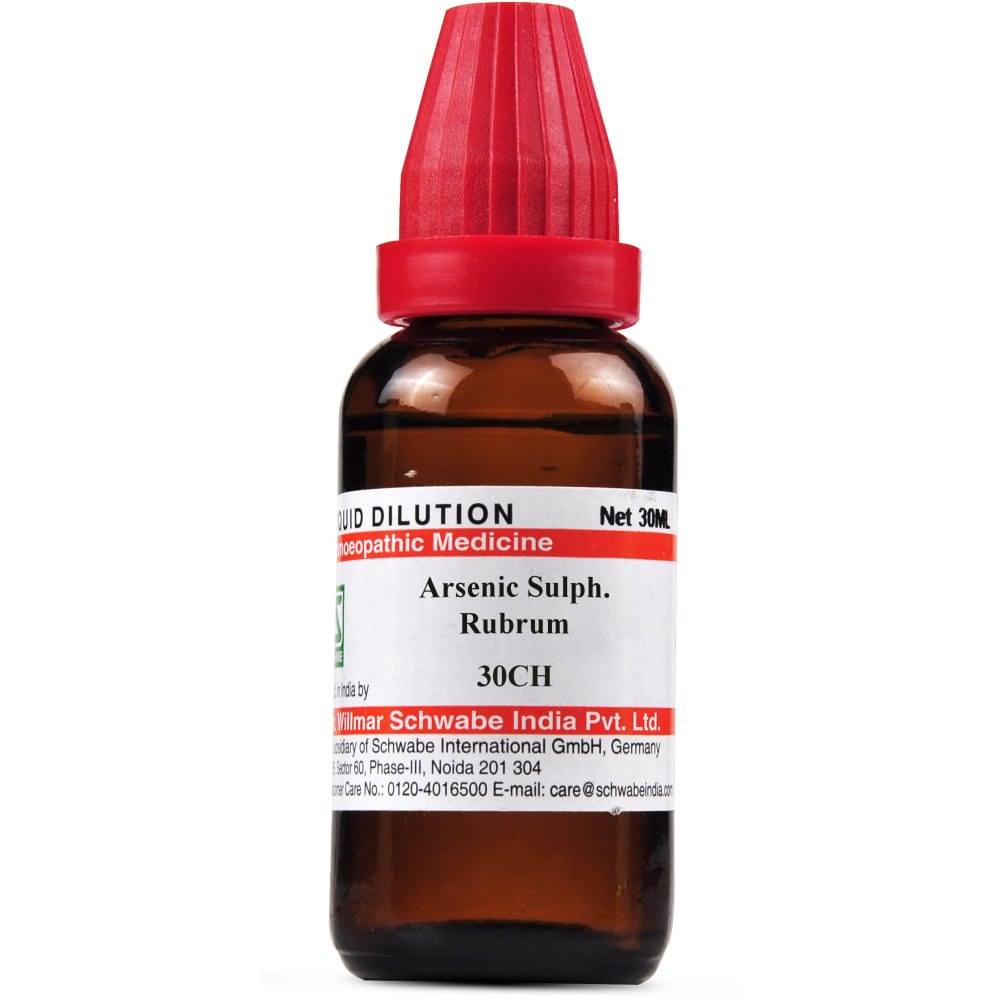 Willmar Schwabe India Arsenic Sulphuratum Rubrum 30 CH (30ml) : Itching in throat, High temperature, Acne, Weakness, Tonsils enlarged
Also known as
Ars Sulf Rub is also known as Asr.
Properties
Potency
30 CH
Weight
75 (gms)
Dimensions
3 x 3 x 9 centimeters
Willmar Schwabe Arsenic Sulphuratum Rubrum
Common Name: Realgar, or Arsenic Sulfide
Causes & Symptoms for Willmar Schwabe Arsenic Sulphuratum Rubrum
Numerous cases of sciatica and influenza benefit from arsenic sulphuratum rubrum.
Arsenic Sulphuratum Rubrum relieves bone pains and burning pains (which are made worse by drinking cold water).
The worst of all symptoms—including headaches—occurs at night and when you first wake up.
Arsenic Sulphuratum Rubrum is indicated by a sleep disorder accompanied by vivid dreams, convulsions, and numbness.
Mind
For those who have crossness, arsenic sulphuratum rubrum is recommended because it has more vigor.
Head
Arsenic Sulphuratum Rubrum is prescribed for severe persistent pain that radiates deep into the right frontal lobe of the brain and into the right ear, that is made worse by bending over or exercising, and that responds best to cold application at 5:00 p.m.
Right side facial, nasal, jaw, and temple neuralgia with pain starting at back of head and extending around sides.
Throat and Mouth
Inflamed throat and oral mucous membranes
Arsenic Sulphuratum Rubrum relieves enlarged tonsil on the right.
Short, dry, expulsive coughs are brought on by arsenic sulphuratum rubrum, which soothes intolerable throat itching.
Stomach
Arsenic Sulphuratum Rubrum soothes stomach burning that feels like burning coals, makes drinking cold water worse, and makes it difficult to bear even the slightest pressure on the stomach region.
After every meal, Arsenic Sulphuratum Rubrum eases sharp, cutting abdominal pain.
stomach ache and weight.
Anus and Stool
For diarrhea, yellow, mushy stools in the morning right after waking up and in the evening right before bed, as well as persistent tenesmus in the anus, arsenic sulphuratum rubrum is recommended.
breathing systems
Hoarseness associated with an accumulation of thick, persistent mucus in the throat is treated with arsenic sulphuratum rubrum.
Heart
Arsenic Sulphuratum Rubrum provides relief from sporadic, severe pains through the base of the heart that interfere with breathing.
Legs and the Back
Arsenic Sulphuratum Rubrum provides effective pain relief for right hip pain and lameness down the arm and shoulder on the right side of the body.
Side effects of Willmar Schwabe Arsenic Sulphuratum Rubrum
Although there are no such side effects, it is still important to take each medication according to the instructions.
Dosage and rules while taking Willmar Schwabe Arsenic Sulphuratum Rubrum
Three times per day, mix five drops in a half cup of water.
The globules can also be used as medicine; take them as directed by your doctor, usually three times per day.
We advise you to use medical advice when taking.
Terms and Conditions
Homeopathic medicines have a variety of uses and are prescribed based on symptom similarity; it is assumed that you have sought medical advice before purchasing this medication and are not self-medicating.
Attributes
Brand
Dr. Willmar Schwabe India
Remedy Type
Homeopathic
Country of Origin
India
Homeo Forms
Dilution
Potency
30 CH / 30CH
Price
₹ 90