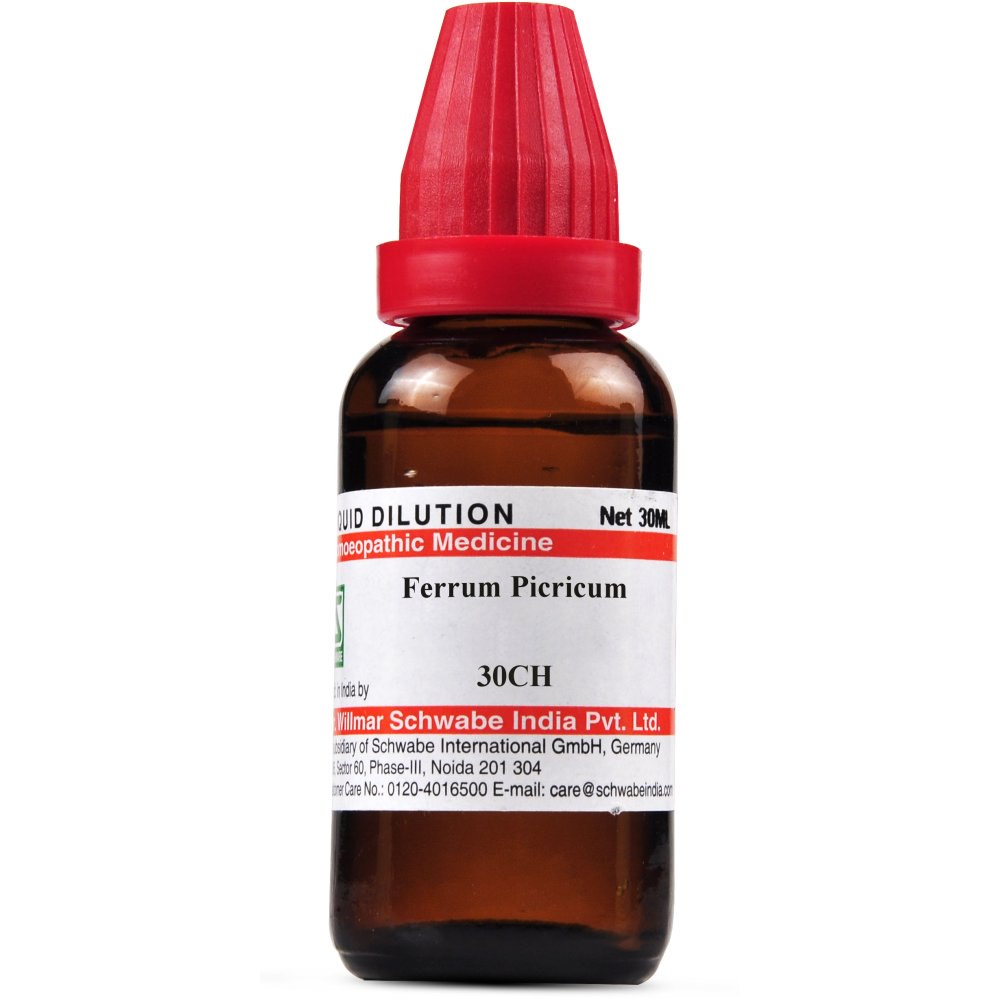 Willmar Schwabe India Ferrum Picricum 30 CH (30ml) : Pain at Neck of Bladder & Penis with Retention of Urine, Warts
Also known as
Iron Pic
Properties
Potency
30 CH
Weight
75 (gms)
Dimensions
3 x 3 x 9 centimeters
Ferrum Picricum
Known formally as: Picrate of Iron
Causes & Symptoms for Ferrum Picricum
There is sharp pain at the neck of the bladder and penis, frequent urination at night, a feeling of fullness and pressure in the rectum, and pain along the entire urethra. Ferrum Picricum has a noticeable effect on bladder irritation.
In addition to helping with albuminuria, senile hypertrophy of the prostate, and prostate diseases, ferrum picricum also aids in urine retention.
Warts that are numerous and pedunculated, corns with yellow discoloration, and epithelial growths are other conditions for which ferrum picricum is recommended.
Additionally, rheumatoid arthritis, which causes neck pain that travels down the right arm, can benefit from ferrum picricum.
Additionally, it helps with tinnitus and chronic deafness brought on by gout, fatigue, and jaundice.
Head
Irritability accompanied by a disturbance in cerebral blood flow, occiput pain, and immobility.
Ears
liver symptoms as well as diffuse vasculitis.
Ferrum Picricum examines deafness in teenagers who are cutting their wisdom teeth.
Face
Lupoid facial warts respond well to ferrum picricum.
Abdomen
Ferrum Picricum helps people with icterus who have liver sensitivity.
Anus and Stool
Constipation can benefit from ferrum picricum.
the male genitalia
In cases of enlarged prostate gland, ferrum picricum is helpful.
Back and Neck
Ferrum Picricum helps to relieve neck and arm pain on the right side.
Skin
Warts that are numerous, pedunculated, or corn-like can be helped by Ferrum Picricum.
In addition, it treats jaundice.
Ferrum Picricum is indicated by skin that looks dirty around the joints.
Side effects of Ferrum Picricum
Although there are no such side effects, it is still important to take each medication according to the instructions.
Even if you are taking other forms of medication, such as those obtained through allopathy, ayurveda, etc., it is safe to take the medication.
The effectiveness of other medications is never hampered by homeopathic remedies.
Dosage and rules while taking Ferrum Picricum
Three times per day, mix five drops in a half cup of water.
The globules can also be used as medicine; take them as directed by your doctor, usually three times per day.
We advise you to use medical advice when taking.
Precautions while taking Ferrum Picricum
If you take medication, make sure to wait 15 minutes between eating and taking it.
Consult a homeopathic doctor prior to use if you are pregnant or nursing.
While taking medication, refrain from consuming alcohol or tobacco.
Terms and Conditions
Homeopathic medicines have a variety of uses and are prescribed based on symptom similarity; it is assumed that you have sought medical advice before purchasing this medication and are not self-medicating.
Attributes
Brand
Dr. Willmar Schwabe India
Remedy Type
Homeopathic
Country of Origin
India
For Use By
Men / Male
Homeo Forms
Dilution
Potency
30 CH / 30CH
Price
₹ 90