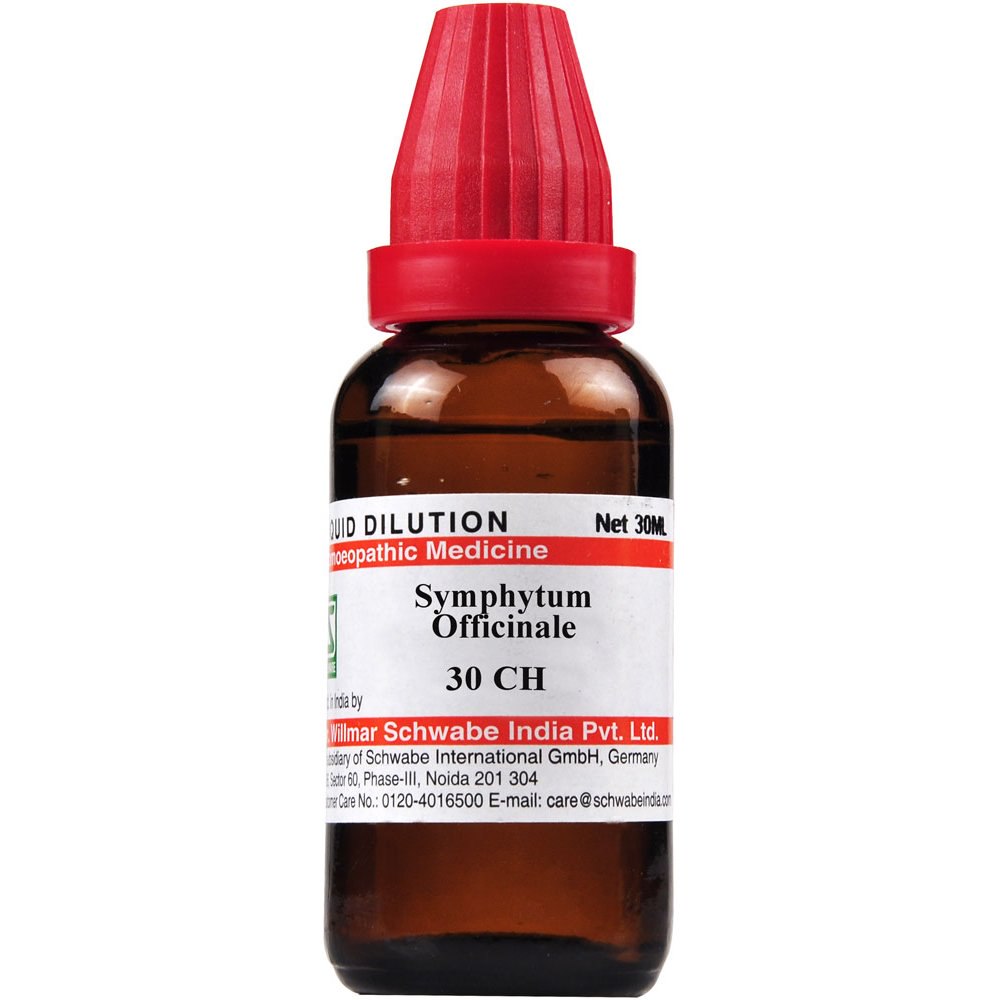 Willmar Schwabe India Symphytum Officinale 30 CH (30ml) : Injuries after blows, fall, Blows, Knee pains, neuralgic pains
Also known as
Off Symphytum
Properties
Potency
30 CH
Weight
75 (gms)
Dimensions
3, 3, 3, and 9.4 centimeters
Willmar Schwabe Symphytum Officinale(Dilution)
Comfrey-Knitbone is its common name.
Causes & Symptoms for Willmar Schwabe Symphytum Officinale
It is a red flag when complaints start to appear after hard falls, negative knockout effects, contusions, or eye injuries.
On ulcerated surfaces, symphytum's crystalline solid, which is derived from the plant's root, aids in stimulating epithelium growth.
This remedy is recommended for patients who have a past history of falling and whose pain is still present today.
helpful in fusing broken bones together.
With the aid of this remedy, pain that persists following amputation or the removal of a part is alleviated.
Symphytum helps to lessen excruciating nodular swelling on bony, hard surfaces like the jaw.
Head:
Pain in the head that moves from one location to another and extends down to the nose.
swelling and redness associated with inferior maxillary bone inflammation.
Eyes:
Symphytum is the best recommended treatment for pain in the periosteum following trauma, injury to the eyes, or injuries from gunshots or severe blows.
Back:
The use of symphytum is recommended for back pain brought on by previous falls, as well as for complaints involving spinal injuries and pelvic and abdominal abscesses.
Back pain brought on by overindulging sexually.
Reduced Limbs:
Consequences of previous falls include prickling pains, which typically affect the knee area.
Sports injuries or other stressful injuries that cause complaints from sudden jerks and dislocations can be effectively treated with Symphytum.
Generalities:
In general, knee pain from symphytum's effects on the bones is neuralgic.
In addition to cleansing ulcers and aiding in healing, symphytum aids in the removal of abscesses.
It stops piles' bleeding and lessens their inflammation.
Side effects of Willmar Schwabe Symphytum Officinale (Dilution)
Although there are no such side effects, it is still important to take each medication according to the instructions.
Dosage and rules while taking Willmar Schwabe Symphytum Officinale (Dilution)
Three times per day, mix five drops in a half cup of water.
The globules can also be used as medicine; take them as directed by your doctor, usually three times per day.
We advise you to use medical advice when taking.
Terms and Conditions
Homeopathic medicines have a variety of uses and are prescribed based on symptom similarity; it is assumed that you have sought medical advice before purchasing this medication and are not self-medicating.
Attributes
Brand
Dr. Willmar Schwabe India
Remedy Type
Homeopathic
Country of Origin
India
Homeo Forms
Dilution
Potency
30 CH / 30CH
Price
₹ 90