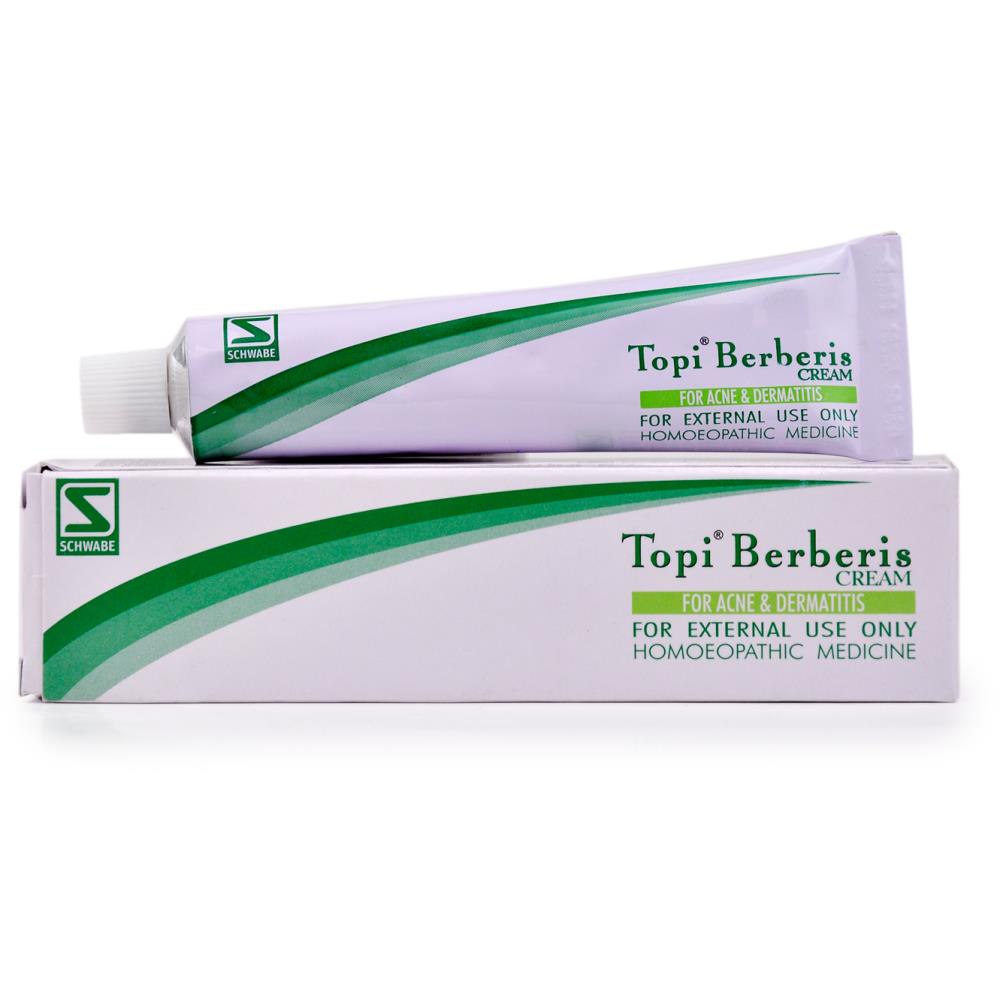 Willmar Schwabe India Topi Berberis Cream (25g) : Acne/Pimples, Pigmentation and Marks on Skin, Dry Skin Diseases
Dimensions
13.5, 2.4, and 3.5 centimeters
About Willmar Schwabe India Topi Berberis Cream
America's oldest homeopathic consumer brand, B & T®, was founded in 1835 by Drs. Francis E. Boericke and Adolph J. Tafel. It has a 180-year legacy in homoeopathy.
Mr. J.G. Wesselhoeft founded it in 1835.
Boericke and Tafel was a partnership established in 1869 by two German men named A.J. Tafel and Francis Edmund Boericke for the purposes of publishing books and operating a pharmacy.
Boericke & Tafel joined Hom Int (Homoeopathy International), a grouping of homeopathic companies conducting business globally, in 1987.
The Willmar Schwabe Group acquired Boericke & Tafel, the first homeopathic consumer brand in the United States, in 1988.
India launched a body care line in 2015.
Product Description of Schwabe India Topi Berberis Cream
Homoeopathic practitioners have long used Berberis aquifolium tincture to treat inflammatory, scaling dermatoses (commonly known as psoriasis) and skin conditions marked by papule- and pustule-like skin eruptions (commonly known as acne).
Berberis aquifolium MT makes up 10% of Topi Berberis.
Actions:
for dermatitis and pimples
provides instant access to the active ingredient
effective antibacterial treatment for acne
emollient action is provided for dry skin.
psoriasis treatment that restores normal hyperkeratotic cell growth
successfully manages eczema
How To Use of Willmar Schwabe India Topi Berberis Cream
Application of a thin layer of Schwabe India Topi Berberis Creamcream to the affected skin areas after thorough cleaning and drying is advised two to three times per day.
Any contact with open wounds should be avoided when applying the Willmar Schwabe India Topi Berberis Cream.
Why Should You Buy Schwabe India Topi Berberis Cream Product? ( USP )
One of the most effective treatments for skin issues related to acne and pimples is Willmar Schwabe India Topi Berberis Cream.
Attributes
Brand
Schwabe Cosmetics
Remedy Type
Homeopathic
Country of Origin
India
Form Factor
Cream
For Skin Type
Dry Skin
Price
₹ 70