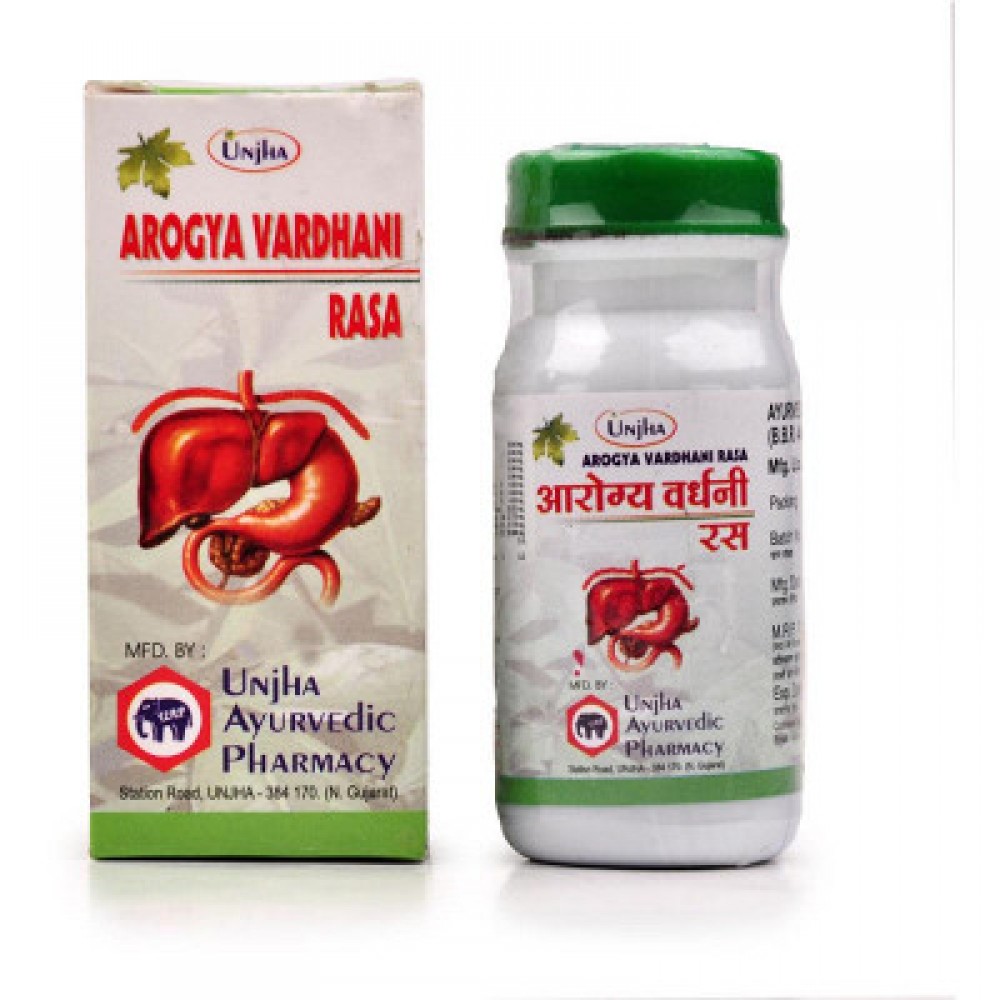 Unjha Arogyavardhini Rasa (40tab) Fatty Liver, Jaundice, Hepatitis, Cirrhosis, Constipation, Indigestion, Skin Disorders
Concerning Arogyavardhini Vati/Ras
An ayurvedic herbal mineral formulation called Arogyavardhini Vati (also known as Arogyavardhini Gutika Rasa) is an efficient treatment for almost all illnesses.
Arogyavardhini Vati is also beneficial for conditions like psoriasis, thyroid issues, diabetes, obesity, and edema from any underlying cause.
Arogyavardhini Vati's component parts.
Kutki, or Picrorhiza
Guggulu Shuddha
Zeylanica Plumbago (Chitrak)
Pure asphalt, or shilajit
Indian gooseberry, or Emblica officinalis,
Belliric Terminalia (Bibhitaki)
Haritaki (Terminalia Chebula)
Shuddha Parad (Parad Purified)
Shuddha Gandhak, purified sulfur
Lauh Bhasma, aka Loha Bhasma
Bhasma Abhrak
Bhasma Tamra
Arogyavardhini Vati's Therapeutic Properties
The following are the healing qualities of Arogyavardhini Vati.
Principal Move
digestion-enhancing drug
Appetizer
Carminative
gentle laxative
Anti-Obesity
liver elixir
Anti-inflammatory
Antipruritics
Demulcent
Adjunct Behavior
Anti-hypertensive
Red blood cell production is aided by hematogenic substances.
moderate expectorant
Arogyavardhini Vati's Therapeutic Applications
Following medical conditions benefit from Arogyavardhini Vati's use.
Hypertension
high levels of cholesterol
Atherosclerosis
Regular bowel movements
Hepatitis
gallbladder inflammation
the inability to eat
Indigestion
Constipation or gas
Bloating
a dilated abdomen
Itching
Eczema
Psoriasis
Urticaria
Pyorrhea
Arogyavardhini Vati's Health Advantages & Medical Uses
Generally speaking, poor digestion may cause malabsorption and production of more toxins (AMA) in the body, which in turn cause a variety of disorders. The second factor is constipation, which is also a root of many diseases in the body. Arogyavardhini Vati works on both. It enhances the function of the digestive system.
cardiac conditions
By enhancing liver functions, Arogyavardhini Vati lowers cholesterol levels while also preventing atherosclerosis (hardening of the blood vessels), plaque buildup in the blood vessels, and cholesterol deposition. As a result, it benefits people who have high cholesterol and heart disease.
Although it may not directly lower high blood pressure, it does lower lipid levels in blood vessels, which can sometimes be the primary causes of hypertension due to high cholesterol levels and atherosclerosis. It works slowly and its effects may not be seen for three to four months after starting regular treatment.
The symptoms listed below are present in some high blood pressure patients.
eyes that are red
headache
Insomnia
eye discomfort
Restlessness
Constipation
Regular bowel movements
Arogyavardhini Vati is a remedy for constipation that was actually developed by ancient scholars. While it is effective for all types of constipation, it particularly works well for chronic constipation.
Because of the minerals Shilajit and other present in it, it strengthens the intestines.
It promotes the liver's production of bile, which enhances the peristaltic movements of the intestine and, in turn, helps to facilitate the passage of stool from the intestines to the lower end of the large intestine.
It reduces the development of hard stools by softening the stools.
It makes it easier for stools to move by reducing the amount of stickiness or fattiness to the intestinal walls.
It promotes healthy nutrient absorption and aids in better digestion.
liver conditions and hepatitis
The following liver conditions can generally benefit from arogyavardhini vati.
Jaundice
Syndrome of fatty liver
Edema linked to liver illness
chronic liver inflammation
Hepatitis virus
Hepatitis from alcohol
hunger loss and indigestion
Long pepper and the CHIRAK herb, which are found in Arogyavardhini Vati, stimulate the appetite and lessen indigestion.
Bloating, gas, and flatulence
Arogyavardhini Vati reduces intestinal gas, flatulence, bloating, and abdominal distension because the herbs in it have an anti-flatulent effect and decrease gas formation in the alimentary canal.
How much Arogyavardhini Vati to take
Arogyavardhini Vati is taken twice or three times daily in doses ranging from 250 mg to 1000 grams; the daily maximum dosage is 3 grams.
Advisory & Negative Effects
You should keep in mind that Arogyavardhini Vati works well in VATA humor and KAPHA humor, can be used in cases of SAMA PITTA or PITTA associated with dominance of KAPHA humor, and can be used to treat PITTA associated with KAPHA humor dominance. However, it can exacerbate the following symptoms of NIRAMA PITTA when used improperly.
Burning sensation (However, arogyavardhini vati is not recommended unless KAPHA is dominant or AMA is associated with PITTA.)
Mouth ulcer (only when inflamed, burning, and extremely painful)
(Very rare) Increase in bleeding
Uncommon case of vertigo
Arogyavardhini Vati is contraindicated in these health conditions even though it does not directly cause these side effects as it may exacerbate them.
Lactation and Pregnancy
There are numerous safer alternatives available; therefore, you should never use Arogyavardhini Vati during pregnancy as it is most likely UNSAFE.
You should err on the side of caution and avoid using Arogyavardhini Vati while you are nursing since the safety profile is not available.
CONTRAINDICATIONS
Arogyavardhini Vati has no absolute contraindications, but the following circumstances may preclude its use:
Pregnancy
renal failure in particular and kidney diseases
Rules and Regulations
Before purchasing this medication, we have assumed that you sought medical advice and are not using it for self-medication.
Attributes
Brand
Unjha Pharmacy
Remedy Type
Ayurvedic
Country of Origin
India
Form Factor
Tablet
Price
₹ 84