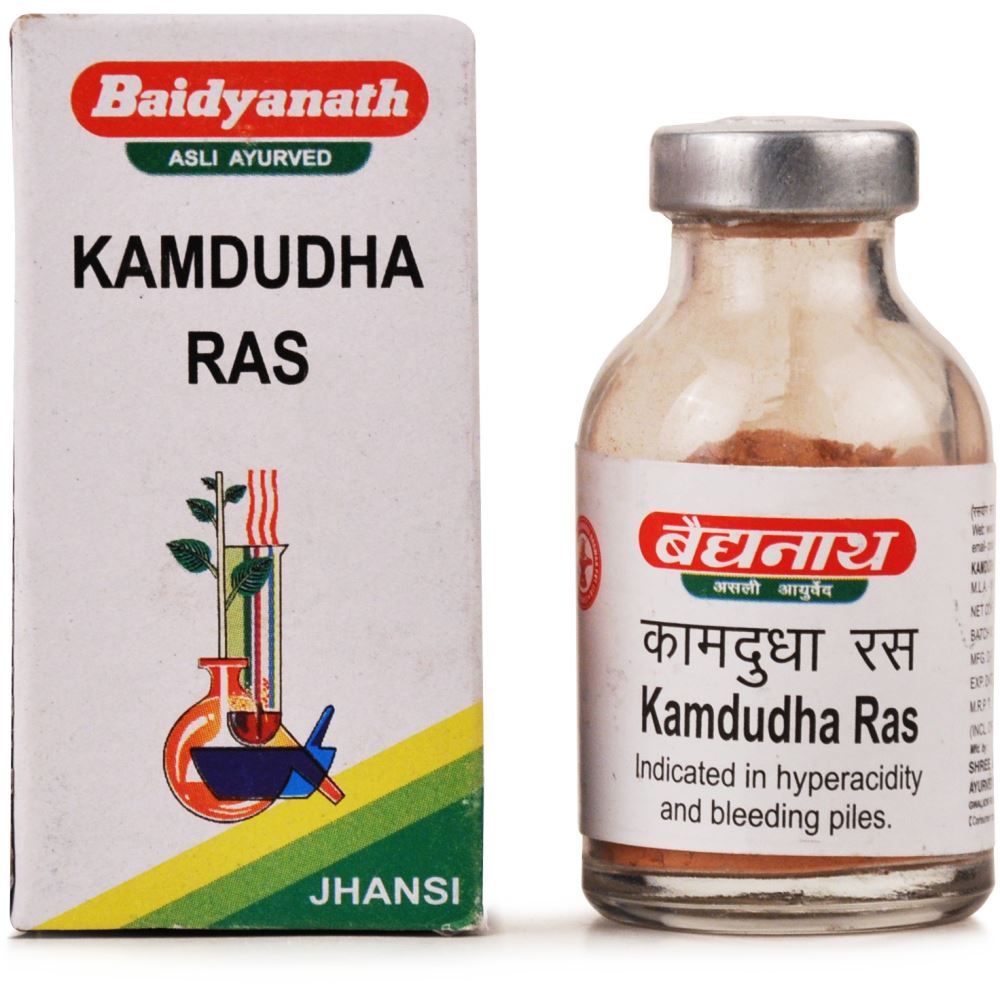 Baidyanath Kamdudha Ras (Ordinary) (10g) : Helps In Acidity, Gas, Flatulence, Indigestion and ulcers
Properties
Weight
46 (gms)
Dimensions
3,6,8, and 3,6 centimeters
About Kamdudha Ras
The tablet-based Ayurvedic medicine Kamdudha Ras (Moti Yukta), which is more commonly used in North Indian Ayurvedic treatment methods and is used to treat bleeding disorders and gastritis.
Ingredients of Kamdudha Ras
Pishti Mukta
Prashti Praval
Pishti Shukti
Varatika (Kapardak) Bhasma
Bhasma Shankh
Purified hematite known as Shuddha Sonageru
Gilbert Satva
Chemical Composition of Kamdudha Ras
It's possible that Kamdudha Ras includes
calcareous carbonate
Conchiolin
Starch
oxidized iron
Titanium in minuscule amounts may also exist.
Medicinal Properties of Kamdudha Ras
Tonic
Antiemetic
Antacid
Anti-vertigo
Inhibits inflammation (effects seen in gastritis)
Modest febrifuge
Adaptogenic
Antioxidant
Hypoglycemia (when diabetes' PITTA systems are engaged)
Brain-soothing effects of a mild antidepressant
Indication of Kamdudha Ras
Following health issues are recommended for Kamdudha Ras:
Having a high or indigestion
persistent gastritis
intestinal ulcer
Heartburn
acid reflux
gum disease
diarrhea that feels like it is burning
Vertigo
Schizophrenia
Epilepsy
headache
Migraine
Leukorrhea
Menorrhagia
Metrorrhagia
Menometrorrhagia
Nervous Deficiency
feeling of burning while urinating
Amounts of blood
Vomiting and Nausea
pregnancy morning sickness and vomiting
psychological harm
extreme emotional exuberance or hysteria
inflammatory bowel disease
the condition known as IBS
Benefits & Medicinal uses of Kamdudha Ras
The cardiovascular, nervous, gastrointestinal, and urogenital systems are all affected by Kamdudha Ras (Moti Yukta).
In addition to lowering the likelihood of bleeding, Kamdudha Ras (Moti Yukta) also lowers body heat, balances stomach acid production, neutralizes excess acid, and reduces inflammation of digestive system organs.
Hyperacidity or Dyspepsia
All of the ingredients in Kamdudha Ras (Moti Yukta) lessen the symptoms of heartburn, sour taste, sour vomit, burning in the abdomen, and tenderness around the epigastric area by neutralizing the stomach acid.
Gastritis
It strengthens the mucus-lined barrier in the stomach and protects it from damage caused by irritants like alcohol, painkillers, bacteria, etc. It reduces gnawing or burning ache and nausea associated with gastritis. It is also effective for reducing feeling of fullness after eating in upper abdomen. Kamdudha Ras (Moti Yukta) is a drug of choice in both acute as well as chronic gastritis.
Peptic Ulcer
Peptic ulcers, which include gastric, esophageal, and duodenal ulcers, can be effectively treated with Kamdudha Ras (Moti Yukta).
Vertigo or Dizziness
In general, it is effective if vertigo has any of the following causes: Excess PITTA aggravation, which is a common cause of dizziness or vertigo, can be treated with Kamdudha Ras (Moti Yukta) in conjunction with other treatments, depending on the underlying cause of the illness.
Poor circulation (when combined with Arjun Ksheer, Arjunarishta, or Red Bark Powder from Terminalia Arjuna)
In addition to Jatamansi, anxiety
(Drakshasava) Low iron or anemia
Inner ear issues (when combined with Raupya Bhasma and Sarivadi Vati, it is effective but ineffective alone)
any medication's side effects
Migraine
Feeling of repulsion brought on by acid dyspepsia
Dosage of Kamdudha Ras
Twice daily, one or two tablets with water.
Precautions of Kamdudha Ras
Only those who are strictly under a doctor's care should take this medication.
Using this medication on oneself could be hazardous.
Both pregnant women and children should avoid it.
Choose a reputable manufacturer when buying this medication.
Tremors, vertigo, and other adverse reactions from overdosage are possible.
Ensure that you only use this medication as directed and for the recommended duration.
Terms and Conditions
Before purchasing this medication, we have assumed that you sought medical advice and are not using it for self-medication.
Attributes
Brand
Baidyanath
Remedy Type
Ayurvedic
Country of Origin
India
Form Factor
Ras
Price
₹ 125