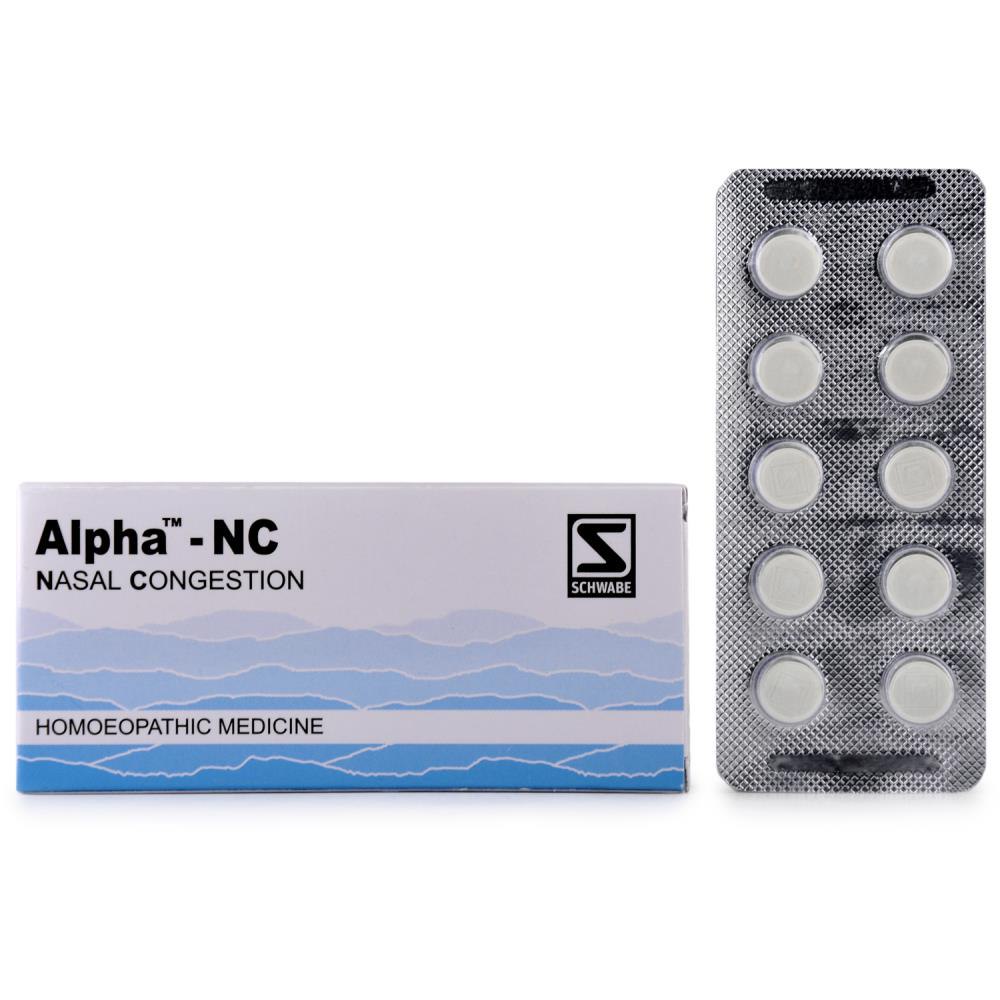 Willmar Schwabe India Alpha NC (Nasal Congestion) (40tab) : Helps in Nasal Congestion,Thick Mucus in Nose, Headache, Allergic Rhinitis
Also known as
Infinite C
Properties
Form
Tablet
Weight
25 (gms)
Dimensions
Dimensions: 9.8 x 1.8 x 4.5 centimeters
About Alpha NC (Nasal Congestion)
Additionally to decongestion, it reduces the frequency of attacks.
effectively clears mucous from the pharynx and nares, which decongests stuffy nostrils.
alleviates headaches and sneezing around the eyes
blocked nasal and paranasal sinus secretions are liquefied
reduces the frequency of attacks by strengthening the immune system
Composition of Alpha NC
Each tablet of 250 mg contains:
Hydrastis canadensis 3x 25 mg: Ozena tends to blow her nose constantly and has a watery, excoriating discharge in addition to having a septal ulcer.
Echinacea angustifolia 1x 25 mg: Right nostril is bleeding and feels stuffed up.
Cinnabaris 8x 25 mg: Chronic rhinitis, eye infections like keratitis and iritis, and Ciliary Neuralgia can all be effectively treated with cinnamon.
Kalium bichromicum 4x 25 mg: Dropping from the posterior nares, a loss of smell, a lot of hawking, difficulty breathing through the nose, dryness, coryza with a blocked nose, and violent sneezing are all symptoms.
Baryta muriatica 3x 25 mg: Mucus is building up significantly and rattling, and expectoration is challenging.
Q.S. excipients for 250 mg
Direction of use of Alpha NC
Dosage: If symptoms do not improve, see a specialist. Unless otherwise directed by a doctor, take 1 to 2 tablets three times per day.
Side effects: Alpha-NC has no known negative effects.
Contra-indications: There are no known contraindications to using Alpha-NC.
Interactions: Alpha – NC has no known interactions with other products.
Terms and Conditions
Before purchasing this medication, we have assumed that you sought medical advice and are not using it for self-medication.
Attributes
Brand
Dr. Willmar Schwabe India
Remedy Type
Homeopathic
Country of Origin
India
Form Factor
Tablet
Price
₹ 185