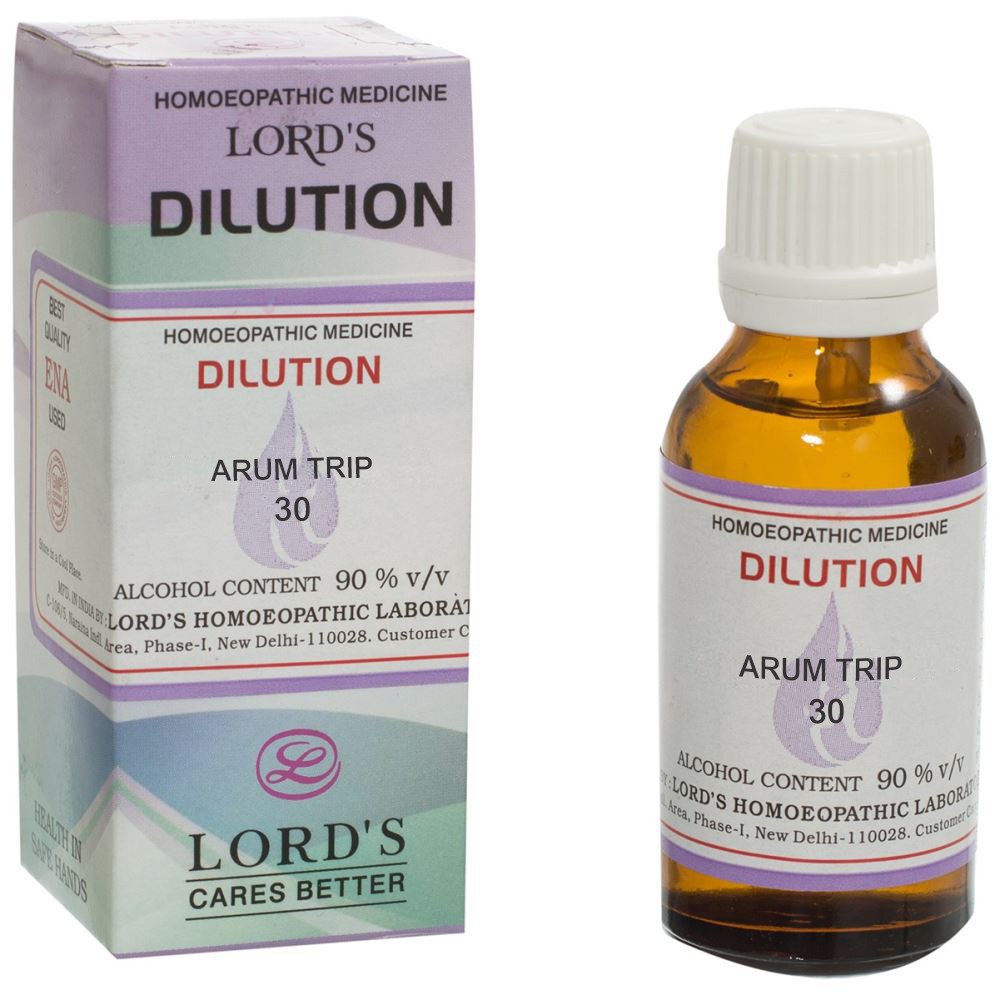 Lords Arum Trip 30 CH (30ml) : For obstructed nose, sore throat, mouth ulcers, cracked lips,skin, rash
Also known as
Arum Triphy, Arum Triphyllum
Properties
Potency
30 CH
Weight
84 (gms)
Dimensions
2-by-2-by-7 millimeters
Lords Arum Trip
Jack-in-the-Pulpit is its common name.
Causes & Symptoms for Lords Arum Trip
The Triphyllum has the same effect as Arum maculatum, Italicum, and Dracontium.
Acridity is the keystone of the type of action specific to Arum Triphyllum, which is irritant poison that all of them contain and that causes inflammation of mucous surfaces and tissue destruction.
Hot coffee, hot clothing, and Arum Triphyllum's headache all make it worse.
Head
In order to relieve a headache brought on by wearing too-warm clothing or drinking hot coffee, a patient of Arum Triphyllum buries his head in a pillow.
Eyes
Arum Triphyllum calms upper eyelid quivering, especially on the left.
Nose
Nose ache, astringent discharge that causes raw sores
Face feels hot and chapped as though it had been exposed to a cold wind. Nose is constantly picked until it bleeds.
For blocked noses, mouth breathing is required, boring in the nose, coryza, and bloody or watery discharge, arum triphyllum is recommended.
Mouth
Arum Triphyllum provides relief for chapped, burning lips and sore, burning soft palates.
Patients with sore, cracked mouth corners, red, sore tongues, and raw, entire mouths should take Arum Triphyllum.
Lips are picked until they bleed, and there is plenty of corrosive, acrid saliva.
Throat
Arum Triphyllum is indicated by submaxillary gland swelling, constant hawking, hoarseness, and excessive mucus expectoration.
Arum Triphyllum is recommended for sore, unsteady voice, worse talking and singing, and sore, uncontrollable lungs.
Skin
Scarlet rash should be treated with Arum Triphyllum, raw.
Aggravation
Wind from the northwest is worse; lie down.
Side effects of Lords Arum Trip
Although there are no such side effects, it is still important to take each medication according to the instructions.
Even if you are taking other forms of medication, such as those obtained through allopathy, ayurveda, etc., it is safe to take the medication.
The effectiveness of other medications is never hampered by homeopathic remedies.
Dosage and rules while taking Lords Arum Trip
Three times per day, mix five drops in a half cup of water.
The globules can also be used as medicine; take them as directed by your doctor, usually three times per day.
We advise you to use medical advice when taking.
Precautions while taking Lords Arum Trip
If you take medication, make sure to wait 15 minutes between eating and taking it.
Consult a homeopathic doctor prior to use if you are pregnant or nursing.
While taking medication, refrain from consuming alcohol or tobacco.
Terms and Conditions
The effectiveness of homeopathic remedies varies depending on the conditions and should be used based on symptom similarity.
Attributes
Brand
Lord's
Remedy Type
Homeopathic
Country of Origin
India
Homeo Forms
Dilution
Potency
30 CH / 30CH
Price
₹ 80