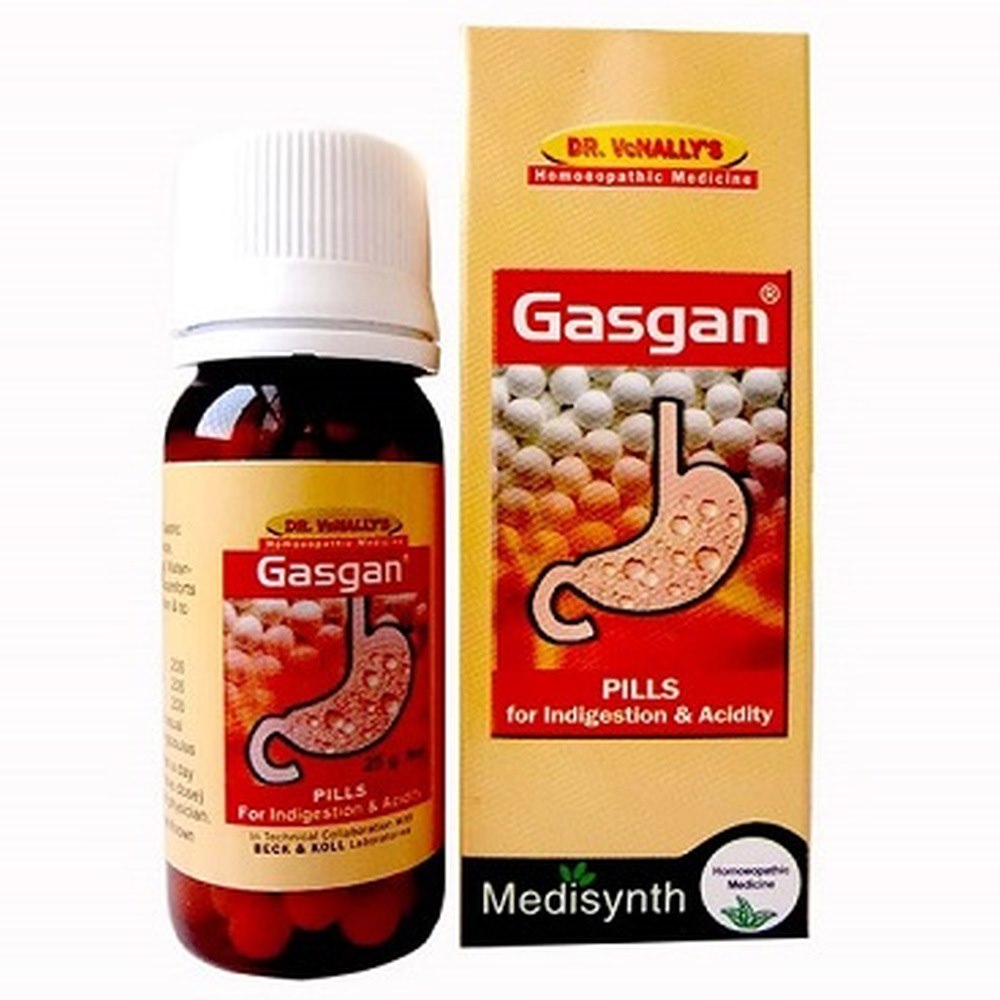 Medisynth Gasgan Pills (25g) : For Flatulence, Gastritis, Indigestion, Bloating & Stomach Pain, acidity
Also known as
Fuel, fuelg pil
Properties
44 (gms)
Dimensions
3,8,3, and 9,4 millimeters
About Gasgan Pills
A highly potent homoeopathic combination designed to improve the digestive process and liver activity, thereby reducing acidity and constipation. It also relieves flatulence, dyspepsia, belching, waterbrash, gastralgia, and discomforts brought on by indigestion.
Composition of Gasgan Pills
Carbo Vegetabilis 1M: Aversion to meat, fats, and milk. Upper abdominal flatulence. Craving for coffee, acids, sweets, and salted foods. Weak digestion. Flatulence and fullness accompany all complaints.
Colchicum Autumnale 1M: abdomen bloated, unable to extend legs, and abdominal distension
Nux Vomica 1M: Eructations, bitter and sour regurgitations, pyrosis, and occasionally acid vomiting are the gastric symptoms that point to this medication. They also include an unpleasant taste in the mouth, nausea, or an intense but easily satisfied hunger.
Dosage of Gasgan Pills
2-3 times a day, 2 pills.
Contraindications of Gasgan Pills
There are no known limitations.
Precautions while using Gasgan Pills
If you take medication, make sure to wait 15 minutes between eating and taking it.
Consult a homeopathic doctor prior to use if you are pregnant or nursing.
While taking medication, refrain from consuming alcohol or tobacco.
Terms and Conditions
Before purchasing this medication, we have assumed that you sought medical advice and are not using it for self-medication.
Attributes
Brand
Medisynth
Remedy Type
Homeopathic
Country of Origin
India
Form Factor
Pill
Price
₹ 110