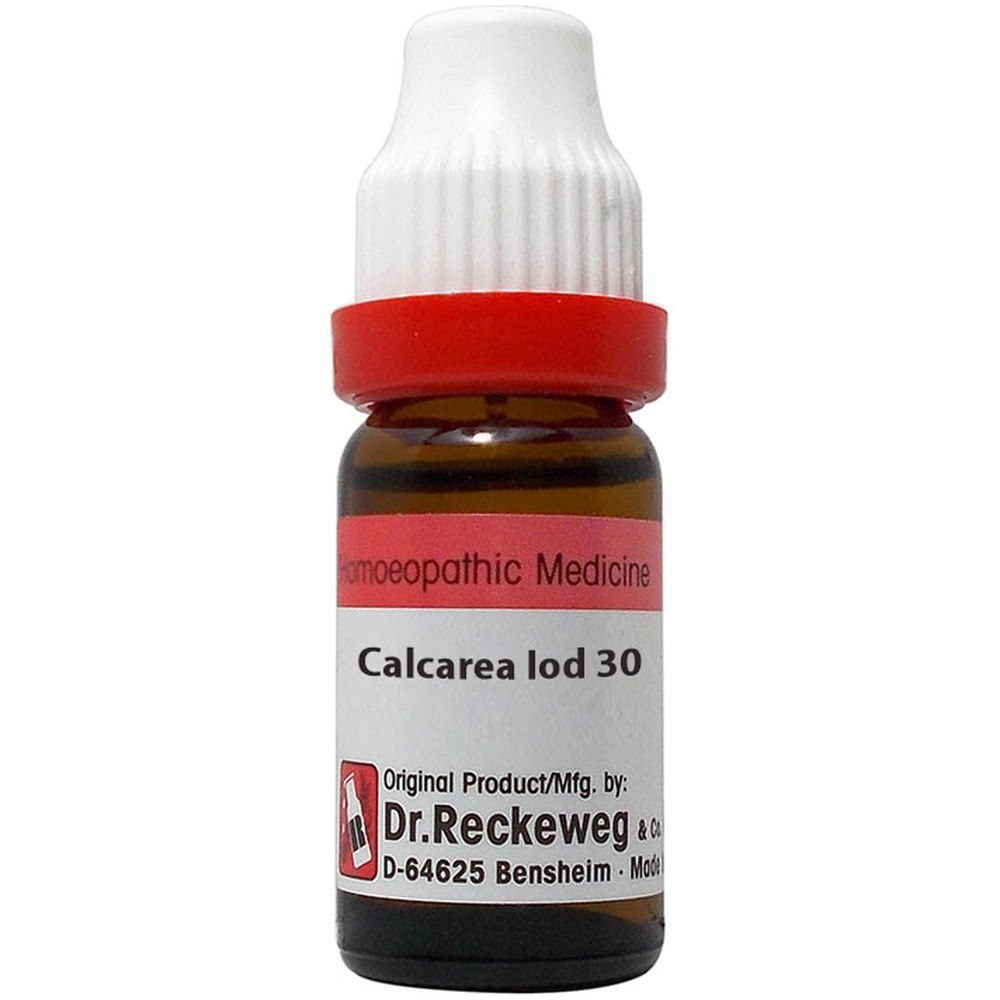 Dr. Reckeweg Calcarea Iodatum 30 CH (11ml) : Enalrged glands, tonsils, polyps, flatulence, Ulcers, Cracks skin
Also known as
Calculate the intensity of oxygen
Properties
Potency
30 CH
Form
Liquid
Weight
40 (gms)
Dimensions
3, 2, 3, and 7.4 millimeters
Dr. Reckeweg Calcarea Iodata
Common name: Osmium iodide
Causes and symptoms for Dr. Reckeweg Calcarea Iodata
In particular, enlarged glands, tonsils, and other scrofulous affections benefit from the use of calerea iodata.
When children are chubby and prone to colds, calcarea iodata is a well-recommended remedy for thyroid enlargements around the time of puberty. Calcarea iodata has a tendency for profuse, yellow secretions, and it has been effective for conditions like adenoids and croup.
In addition to hiccoughing and stabbing abdominal pain behind the right lower ribs, flatulence can be relieved with the aid of calerea iodata.
Calcarea Iodata is effective in treating uterine fibroids, adenoids, polyps of the nose, tonsillitis, thyroid enlargement, and thyroid enlargement.
In addition, Calcarea Iodata is advised for the treatment of indolent skin ulcers, which appear as cracked skin with swollen skin glands.
Head
-Headache while traveling through a chilly wind.
– Feeling dizzy.
Sneezing, a catarrh, and a lack of sensation are the main symptoms.
Nose
Sneezing, catarrh, and worse symptoms at the base of the nose.
– Ear and nose polyps.
Throat
– Tiny crypts are stuffed inside enlarged tonsils.
Respiratory
– A persistent cough; chest pain and breathing problems following syphilis and mercurialization.
Hectic fever; expectoration that is green and purulent.
– Croup.
– Pneumonia
Skin
-Low-intensity ulcers that are present in conjunction with varicose veins.
-Sweating is simple.
eruptions that are papular and copper-colored, tinea, favus, crusta lactea, swollen glands, cracked skin, and hair loss.
Side effects of Dr. Reckeweg Calcarea Iodata
Although there are no such side effects, it is still important to take each medication according to the instructions.
Even if you are taking other forms of medication, such as those obtained through allopathy, ayurveda, etc., it is safe to take the medication.
The effectiveness of other medications is never hampered by homeopathic remedies.
Dosage and rules while taking Dr. Reckeweg Calcarea Iodata
Three times per day, mix five drops in a half cup of water.
The globules can also be used as medicine; take them as directed by your doctor, usually three times per day.
We advise you to use medical advice when taking.
Precautions while taking Dr. Reckeweg Calcarea Iodata
If you take medication, make sure to wait 15 minutes between eating and taking it.
Consult a homeopathic doctor prior to use if you are pregnant or nursing.
While taking medication, refrain from consuming alcohol or tobacco.
Terms and Conditions
Homeopathic medicines have a variety of uses and are prescribed based on symptom similarity; it is assumed that you have sought medical advice before purchasing this medication and are not self-medicating.
Attributes
Brand
Dr. Reckeweg
Remedy Type
Homeopathic
Country of Origin
Germany
Homeo Forms
Dilution
Potency
30 CH / 30CH
Price
₹ 125