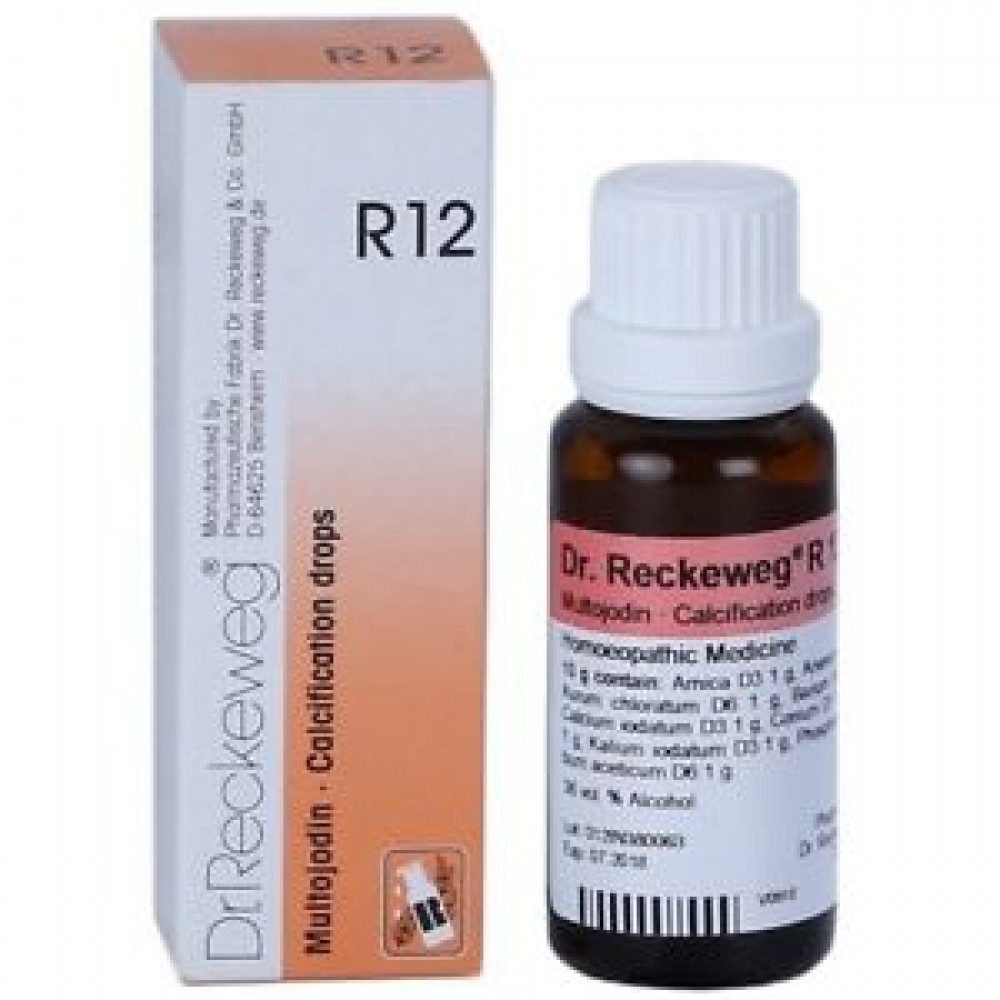 Dr. Reckeweg R12 Calcification Drops 22ml
R12 DR. RECKEWEG
Reduced calcification
INDICATIONS
Senility, poor memory, blood flow issues, vertigo, forgetfulness, a propensity for apoplexy and its effects, a tendency toward goitre, and thyreotoxicosis are just a few of the symptoms of general arteriosclerosis and hypertonia.
Principal Ingredients' Mode of Action
extending iodine therapy by combining active biologic components with various iodates.
Arnica: At the start of an apoplectic stroke, apoplexy tendency favors resorption.
Aurum chloratum: Palpitations, blood pooling in the head, and depressive psychosis.
Barium chloratum: memory loss that happens over time, senility, vertigo, psychic changes, and instability.
Conium: Blood clots, memory loss, psychic changes, general nervous system weakness, hypersensitivity, and impotence are among the symptoms of vertigo, particularly when rising.
Iodates: Blood viscosity increases have an impact on general arteriosclerosis, hypertonia, and thyroid function.
Glonoinum: Head congestion, a rapid heartbeat, and chest and heart pressure.
Plumbum aceticum: Pale hypertension, apoplexy-related nephrosclerosis, intermittent limping, and mental dementia are all symptoms.
How to Use: In general, 10-15 drops three times per day in some water; in acute cases, 4-6 drops three times per day; after improvement (taking 2-3 weeks), continue the treatment for a longer period of time once or twice per day; during the treatment, the use of salt should be avoided; and in predisposition to goitre and thyreotoxicosis, a treatment of 10-15 drops once per day for about 4-6 weeks is recommended.
Apotexic patients should start with frequent doses of 10-15 drops every 1-2 hours, then move up to 10-15 drops 4-6 times per day.
Important Information: use as directed by a physician
Attributes
Brand
Dr. Reckeweg
Container Type
Bottle
Shelf Life
Long Life
Remedy Type
Homeopathic
Country of Origin
Germany
Form Factor
Drops
Suitable For
Veg / Vegetarian
Price
₹ 250