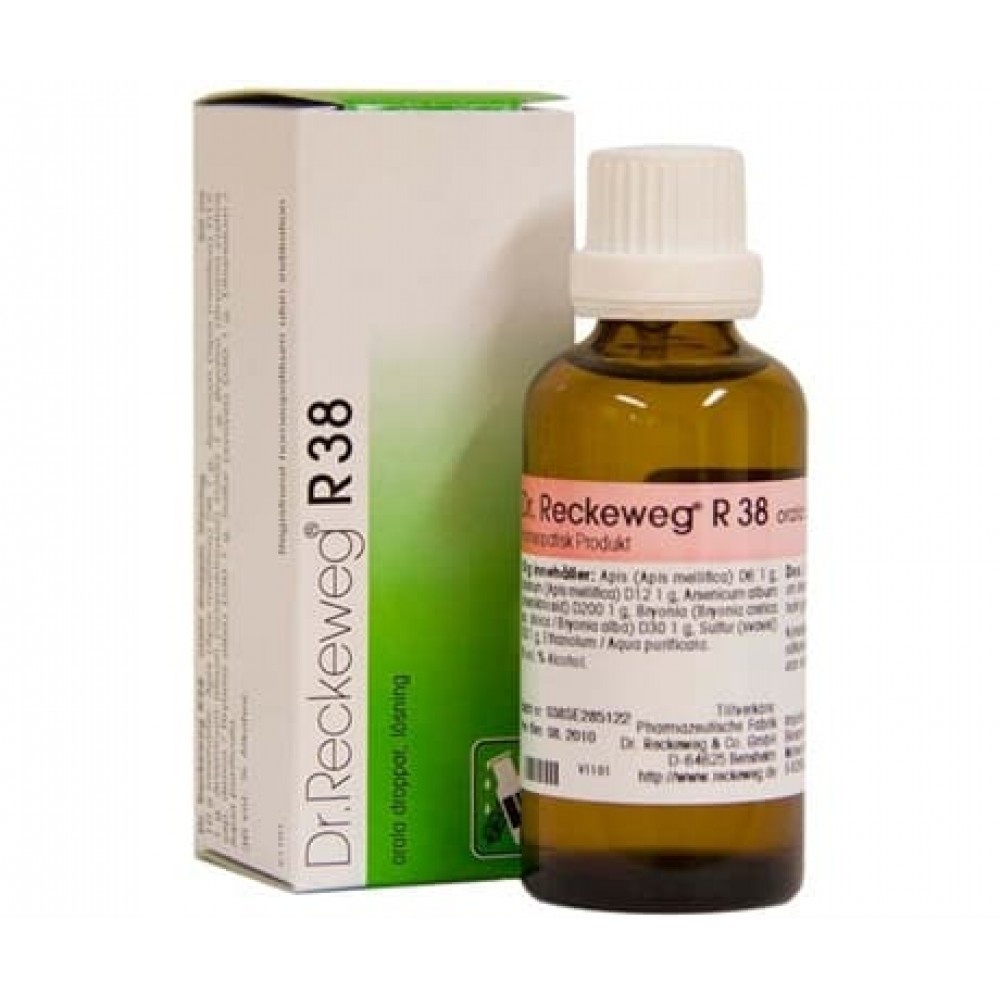 Dr. Reckeweg R38 Affections OF The Abdomen Right Side Drops 22ml
RECKEWEG, DR.
gastrointestinal disorders on the right side
INDICATIONS
Right side ovarian diseases, right side ovarian inflammation, right ovarian cysts and benign tumors, oedema of the larynx, effects of the stynx, and the beginning of appendix inflammation are just a few examples.
Principal Ingredients' Mode of Action
Right side of abdomen is the focus of the various components' combined action.
Apis mellifica: Beneficial action on cysts by resorption; specific action on right side abdominal burning pains associated with ovaries inflamed;
Arsenicum album: Right-side renal disorders and renal colic treatment with a targeted action.
Characteristics: Anxiety and discouragement brought on, in this case, by salpingitis, parametritis, and other right-side affections.
Reduces appendix inflammation, according to bryonia
Inflammation of the abdomen (improvement brought when Iy on the affected side) is the main symptom, which improves when resting and under pressure.
Sulfur: Reduces psoric disorders and itching, which always occur after ovary affections, and amplifies the effects of apis while completing them.
How to Use: * To treat a long-term condition, take 10-15 drops in some water before meals three times per day.
* A higher frequency of administration is required in cases of acute inflammation, convulsive pain, or colic.
With inflammation of the abdomen on both the right and left sides, the alternative use of R39 and R38 is indicated at intervals of 1-2 hours. With fever, R1 which will also decrease the inflammation. * Depending on degree of acuity, every 5 minutes, or every 15-30 minutes, 10 drops (possibly in a little warm water). Also to be advised are hot poultices or the application of healing earth.
Important Information: use as directed by a physician
Attributes
Brand
Dr. Reckeweg
Container Type
Bottle
Shelf Life
Long Life
Remedy Type
Homeopathic
Country of Origin
Germany
Form Factor
Drops
Suitable For
Veg / Vegetarian
Price
₹ 250