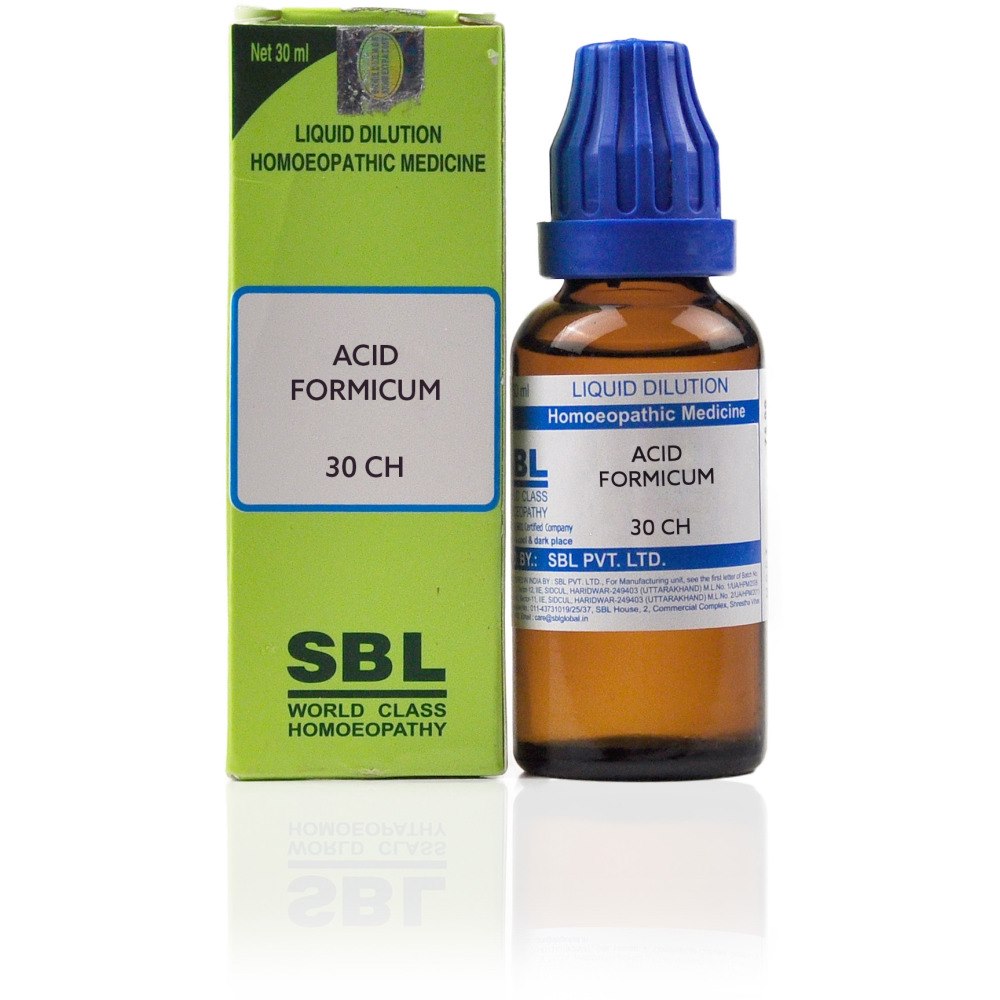 SBL Acid Formicum 30 CH (30ml) : Muscular pains, varicose veins, Nephritis, Tremors, skin eczemat
Also known as
Formulaic Acid
Properties
Potency
30 CH
Form
Liquid
Weight
82 (gms)
Dimensions
3.5 cm by 3.5 cm by 9.5 cm
Formicum acidum(Dilution)
Common Name: Alternate spellings of Acid Formicum
Formula: HCHO2
Causes & Symptoms for Formicum acidum
Inflammations on the ligaments, chronic myalgia, and aches and pains in the muscles
This remedy is indicated by pains that are typically worse on the right side and that get better with motion and pressure.
Formic acid is used to treat catarrh, polyps, and varicose veins.
This treatment is indicated for both acute and chronic nephritis.
Nose and ear
Right ear back pain radiates to the back of the head, and ears are ringing and buzzing.
nose feels blocked up and congested.
Back and Neck
Muscle power and fatigue resistance are both increased by formic acid.
Before a snowstorm, there is a headache, neck pain, and shoulder pain.
The renal secretions are helped to increase by formic acid.
Extremities
Atypical gout, a feeling of weakness in the lower extremities, and sudden, agitated pain
Formic acid is used to treat muscle disorders like myositis.
Formic acid is used to treat swollen, arthritic, and joint stiffness issues.
The bursa, capsula, and ligaments of the joints are all affected.
Skin
psoriasis, hair loss, and persistent eczema.
Generalities
greater removal of disassimilation-related byproducts
This remedy is indicated when formic acid is used to treat tremor symptoms.
Worse when it's cold, after doing a cold wash, when it's humid, and just before a snowstorm.
Better results can be achieved by combing your hair and applying warmth, pressure, and rubbing.
Side effects of Formicum acidum
Although there are no such side effects, it is still important to take each medication according to the instructions.
Even if you are taking other forms of medication, such as those obtained through allopathy, ayurveda, etc., it is safe to take the medication.
The effectiveness of other medications is never hampered by homeopathic remedies.
Dosage and rules while taking Formicum acidum
Three times per day, mix five drops in a half cup of water.
The globules can also be used as medicine; take them as directed by your doctor, usually three times per day.
We advise you to use medical advice when taking.
Precautions while taking Formicum acidum
If you take medication, make sure to wait 15 minutes between eating and taking it.
Consult a homeopathic doctor prior to use if you are pregnant or nursing.
While taking medication, refrain from consuming alcohol or tobacco.
Terms and Conditions
Homeopathic medicines have a variety of uses and are prescribed based on symptom similarity; it is assumed that you have sought medical advice before purchasing this medication and are not self-medicating.
Attributes
Brand
SBL Dilutions
Remedy Type
Homeopathic
Country of Origin
India
Homeo Forms
Dilution
Potency
30 CH / 30CH
Price
₹ 85