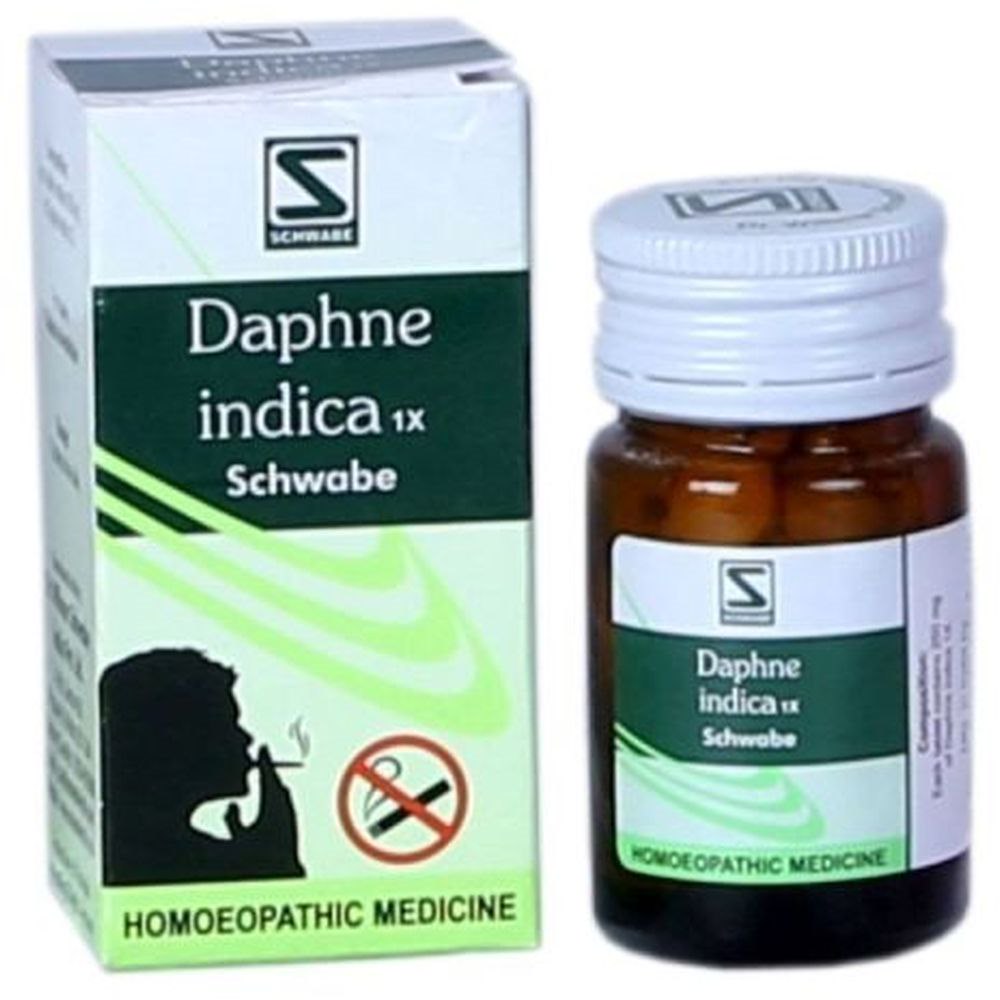 Willmar Schwabe India Daphne Indica 1X Tablets (20g) : Gives Relief from Tobacco Addiction, Lowers Craving, Irritability
Dimensions
Dimensions: 3.9 x 3.9 x 7.7 cm
About Daphne Indica 1X Tablets
Safe medications are available for addiction treatment through homoeopathy.
It is specifically designed to treat tobacco addiction and aids in reducing its accompanying symptoms, including irritability, depression, restlessness, impatience, frustration, and anxiety.
It alleviates the stench of smoke, pungent urine, and offensive sweat that are typically associated with tobacco use and smoking.
Additionally helpful for withdrawal symptoms like agitation, tension, insomnia or drowsiness, pains that are typically sudden, electric-like, and erratic in nature, and lightning jerks in various body parts.
Complementary medicines for withdrawal symptoms: Alpha-DP (digestive issues), Alpha-HA (headache), Alpha-TS (anxiety, tension, and sleep disorders), Bacopa monnieri 1x (concentration problems), and Ginseng 1x (irritability or depression) are some of the supplements available.
Direction of use of Daphne Indica
Dosage: In the absence of a different prescription, take 2 tablets, ideally 2-3 times per day. As symptoms subside, reduce the dose; if they do not, see a doctor.
Side effects: Schwabe's Daphne indica 1x is not known to have any negative effects.
Contra-indications and interactions: It is unknown whether using Schwabe's Daphne indica 1x has any negative side effects or drug interactions.
Terms and Conditions
Before purchasing this medication, we have assumed that you sought medical advice and are not using it for self-medication.
Attributes
Brand
Dr. Willmar Schwabe India
Remedy Type
Homeopathic
Country of Origin
India
Form Factor
Tablet
Potency
1X
Price
₹ 305