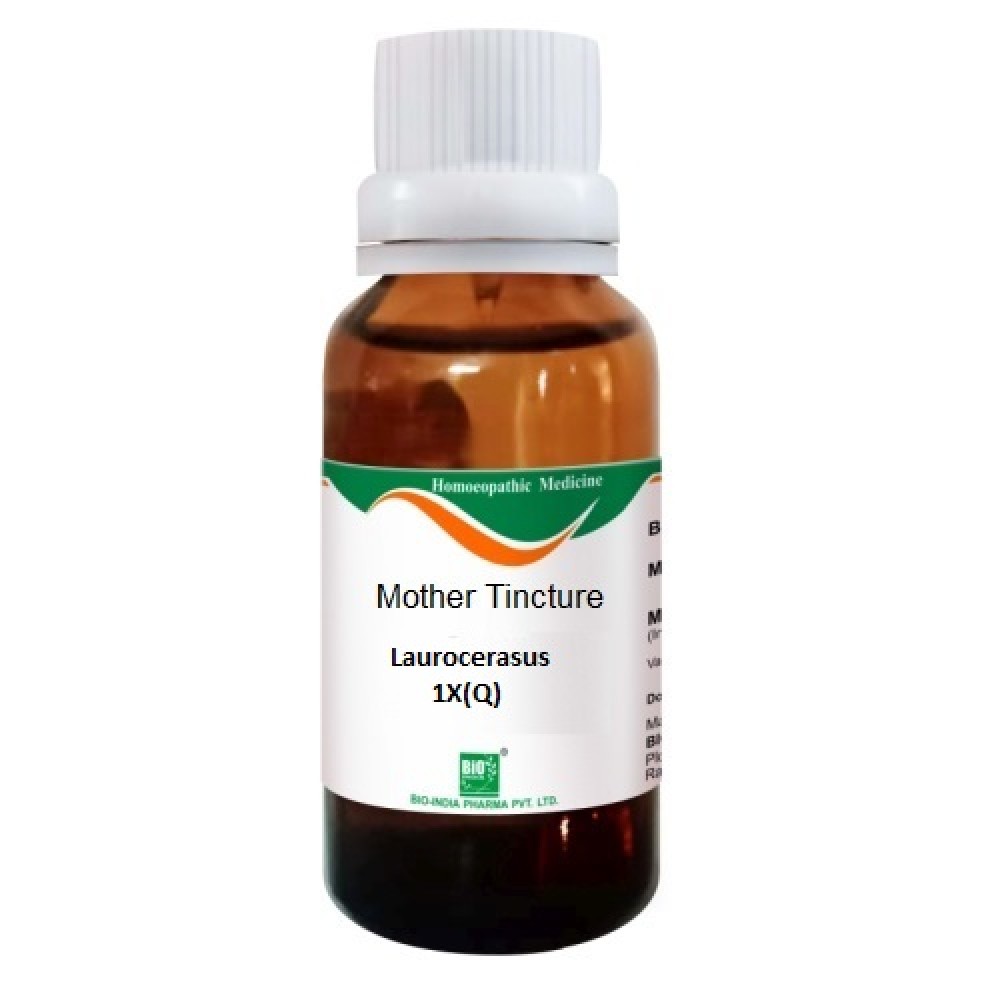 Bio India Laurocerasus (Prunus Laurocerasus) Mother Tincture 1X (Q) (30ml) : For Tickling Cough, Cyanosis, Dyspnea, Diarrhoea, Dysmenorrhea
Bio India Laurocerasus
Chery-laurel is its common name.
Causes & Symptoms for Bio India Laurocerasus
If you have clubbed fingers or swollen hand veins, Laurocerasus can help.
Additionally, it helps with cough caused by valvular diseases.
The main treatment for spasmodic dyspneic tickling cough is lauroceasus.
Dyspnea and cyanosis that is worse when standing.
Chest constriction, large amounts of gloppy or bloody expectoration, and a weak pulse.
Skin turns blue and becomes cold and clammy during cyanosis.
Mind
There is intense fear, dread, and agitation that prevents sleep at night or even a moment of rest, but which vanishes in the open air.
having trouble gathering one's thoughts.
memory impairment.
apprehension and worry over hypothetical threats.
Loss of consciousness and mental dullness, along with speech and movement loss.
Head
An intoxicated, dizzy, and sleepy sensation is present.
Vertigo is characterized by a veil that appears in front of the vision when getting up from a stooping position or from a chair, or by the sensation that everything is turning around.
It helps with vertigo, which gets better outside.
Laurocerasus relieves stupefying headaches that are accompanied by a weighty sensation and a sensation when bending over that feels like the brain is striking the skull.
Eyes
Burning eye pain and dry eyes are both relieved by lauroceasus.
The eyes are in the dark, their vision is obscured.
The size of every object is distorted.
Ears
It helps with hearing loss, ringing and itching in the ears, and hearing difficulty.
Nose
No air enters the nose, which feels closed up.
Coryza's sore throat can benefit from Laurocerasus.
Face
It calms the clenching and twitching of the face muscles and jaw cramps.
Face with titillation that looked like spiders and files crawling over the skin.
Lock-jaw, lower tooth pain, and under-jaw pain can all be helped by laurocerasus.
Throat
Laurocerasus is helpful when deglutition is taking place as well as other times when the throat is sore and painfully tender to the touch.
Pharynx and esophageal cramps are relieved.
As a result of drinking, the esophagus contracts.
When he drinks, his esophagus and intestines make audible rolling motions.
With a lump in the throat and a dull, sticking pain that radiates to the left side of the back, lauroceasus provides relief.
Stomach
risings in violence, either without taste or with taste.
Violent stomach pain, speech loss, burning in the stomach and abdomen, or a feeling of coldness are all alleviated by lauroceasus.
abdominal pain that is both cutting and contracting.
Abdomen
With pressure, it eases abdominal contractions, cramping, and sticking pains in the liver.
It relieves sharp groin stitches.
Anus and Stool
Laurocerasus can help with straining, hard, persistent evacuations, and constipation.
a wind-only emission from an ineffective prod to poop.
Additionally, it looks for diarrhea, tenesmus, and sharp or burning pains in the anus.
green, slimy-content diarrhea accompanied by groin contractions
It soothes rectus itchiness or worm-related worm-like movement.
the male genitalia
enhanced sexual inclination
Gangrene of the genital organs is a sign for Laurocerasus.
While lying down and moving around, it relieves sticking pain above the right pubis that runs along the spermatic cord; sitting upright is preferable.
Under the prepuce, there is relief from the voluptuous itching and desire for coition.
feminine genitalia
Premature and excessive menstruation, thin blood, and nightly vertex tearing.
Dark, large clots of menorrhagic blood occur during climaxis.
It relieves intense melancholy (dysmenorrhea), severe sacral pain that extends to the pubis, dizziness, and blurred vision.
Dysmenorrhea, colic on the first day, and a generalized headache (headache) on the second day, with or without feeling ill.
stitches that resemble needles under the left breast and in it.
breathing systems
Laurocerasus is effective for pharyngeal and throat hoarseness, roughness, and scraping.
The trachea is constricted spasmodically.
It helps when you have a small, intermittent cough that is brought on by throat tickling or scraping.
large amounts of expectoration of gelatinous material with blood flecks.
Back and Neck
Painful stiffness in the neck and nape of the left side is relieved by lauroceros.
Particularly in the open air, pressure in the nape forces you to bend your head forward.
Laurocerasus is helpful for back pain that occurs every four hours, darts up to the head and chest, and makes you feel as though you're suffocating. It's also helpful for drowsiness and constant nausea, which are symptoms that are improved by sleep.
feeling of a large lump dropping from the area just above the belly button to the small of the back.
Arms and Legs
Laurocerasus provides relief for severe shooting and drawing in the shoulders and arms.
Stitches and lameness-related pains in the right shoulder.
It relieves the burning in the hands and the swollen veins.
Legs, lower
Laurocerasus offers relief for knee injuries that are both acute and shooting.
For pain that feels like a strained left hip joint, Laurocerasus is prescribed.
It helps with pain from ulcers in the heel's lower region.
Generalities
Girls who are weak, anemic, and emaciated should take Laurocerasus.
trembling while exercising outside, particularly in the hands and feet.
It eases limb tearing and drawing pains.
body-wide feeling of exhaustion
Blue skin and knobby toenails are both symptoms.
Evening symptoms are worse, and nighttime and outdoor conditions are better.
Side effects of Bio India Laurocerasus
Although there are no such side effects, it is still important to take each medication according to the instructions.
Even if you are taking other forms of medication, such as those obtained through allopathy, ayurveda, etc., it is safe to take the medication.
The effectiveness of other medications is never hampered by homeopathic remedies.
Dosage and rules while taking Bio India Laurocerasus
Three times per day, mix five drops in a half cup of water.
The globules can also be used as medicine; take them as directed by your doctor, usually three times per day.
We advise you to use medical advice when taking.
Precautions while taking Bio India Laurocerasus
If you take medication, make sure to wait 15 minutes between eating and taking it.
Consult a homeopathic doctor prior to use if you are pregnant or nursing.
While taking medication, refrain from consuming alcohol or tobacco.
Attributes
Brand
Bio-India Pharma
Container Type
Bottle
Shelf Life
5 Years
Remedy Type
Homeopathic
Country of Origin
India
Homeo Forms
Mother Tincture
Potency
1X (Q) / Mother Tincture
Price
₹ 310