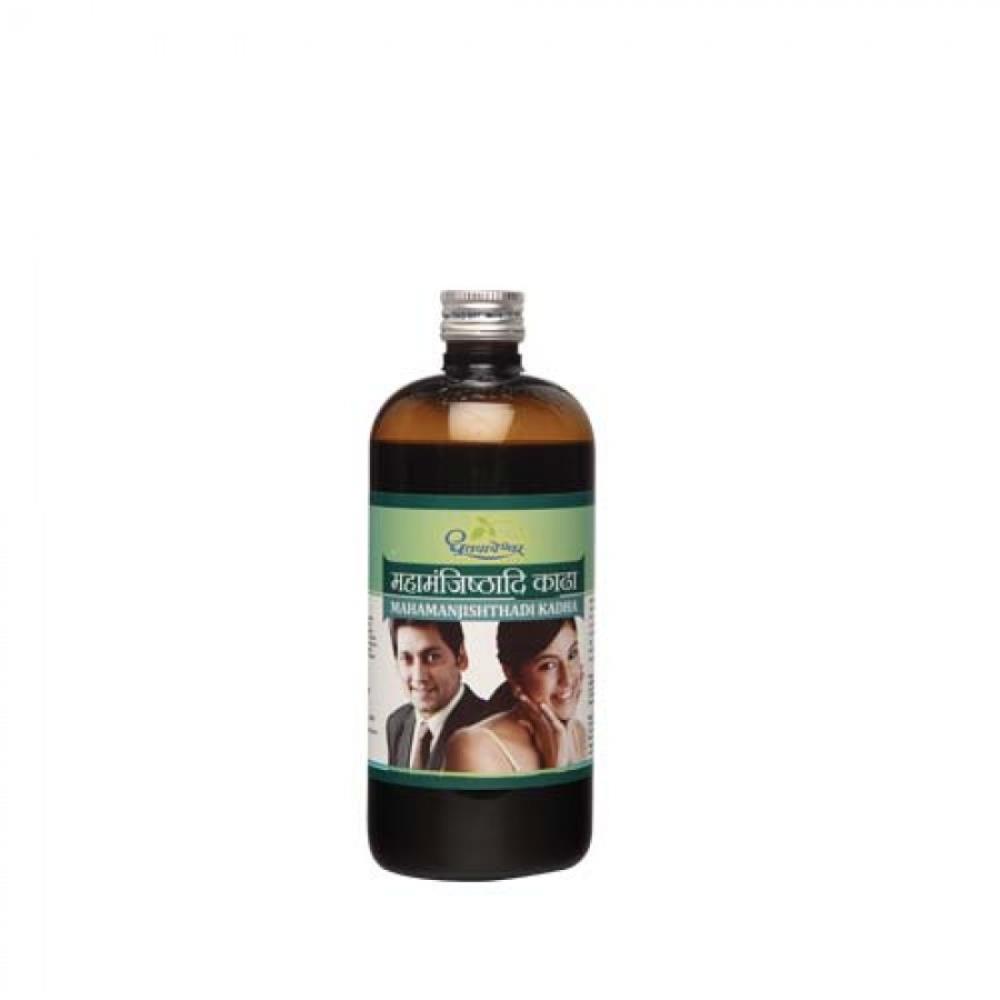 Dhootapapeshwar Mahamanjishthadi Kadha (450ml) : For fistula, piles, Skin Diseases like Itching, Redness, Skin Rashes, Boils, Acne and Pimples.
About Dhootapapeshwar Mahamanjishthadi Kadha
Indicated in skin conditions, rheumatoid arthritis (vaat-rakta), Bell's palsy (facial paralysis caused by a dysfunction of the cranial nerve), and other conditions, Mahamanjishthadi Kadha is a poly-herbal Ayurvedic medicine. Kashaya are decoctions (Kadha) of medicinal herbs, and these preparations are very effective in managing Vaat-vikar associated with Kapha do
Dhootapapeshwar Mahamanjishthadi Kadha Ingredients
Rubia cordifolia, commonly known as manjishta
Cyperus rotundus, the musta
Antidysenterica holarrhena Kutaja
Tinospora cordifolia, or "guduchi,"
Saussurea lappa, Kushta
Ginger – Nagara
Clerodendron serratum, known as Bharngi
Solanum xanthocarpum, also known as Kshudra
A corus calamus is a vacha.
Nimba – Indigenous Azadirachta
Turmeric, or Haridra
Berberis aristata, a Daruharidra species
The three components of triphala are amla (Emblica officinalis), haritaki (Terminalia chebula), and vibhitaki (Terminalia bellirica).
Trichosanthes dioica/Luffa acutangula, also known as patola
Picrorrhiza kurroa, Katuka
Marsdenia tenacissima – Murva
Embelia Ribes in Vidanga
Pterocarpus marsupium as a pose
Plumbago zeylanica Chitraka
Racemosus asparagus and shatavari
Gentiana-Trayamana Kurroo
The long pepper of Krishna
Antidysenteric Holarrhena Indrayava
Vasa – Vasica Adhatoda
Eclipta alba – Bhringaraja
Cedrus deodara – Mahadaru
Cissampelos pariera – Cyclea peltata
Khadira is a type of acacia.
Santalum album by Chandana
Operculina turpethum, also known as Trivrit
Crataeva Nurvala – Varuna
Swertia Chirata – Kiratatikta
Psoralea corylifolia in Bakuchi
kritamala – fistula of cassia
Shakhotaka – Asper asper
Melia Azadirach, aka Mahanimba
Pongamia pinnata – Karanja
Aconitum heterophyllum is tivisha.
Pavonia aromatica Jala
Citrullus cholocynthis in Indravaruni
Hemidesmus indicus and Ananta
Indian Hemidesmus Sariva
Parpata – Indian mugwort
Indication of Dhootapapeshwar Mahamanjishthadi Kadha
Kushtha
Kshudrakushtha
Vrana
Daha
Upadansha
Phirang
Shleepada
Medoroga
Vatarakta
Uses as per Ayurveda of Dhootapapeshwar Mahamanjishthadi Kadha
assists in reducing skin itch and burning.
helps to make skin more even in tone.
encourages wound healing
supports the removal of blood flow obstructions.
facilitates body fat reduction.
aids in blood purification and body waste removal.
reduces joint pain caused by contaminated blood air.
provides for a healthy and lustrous complexion.
helps athletes with their cracked, scaly, itchy skin between their toes.
aids in the management of female vaginal discharge that is white and pungent smelling.
helps both men and women manage the burning sensation that comes with urination.
aids in reducing the tingling and numbness that are frequently felt in the arms, legs, feet, and fingers.
aids in reducing the growth of rough, painless skin.
Dhootapapeshwar Mahamanjishthadi Kadha Of Dosage
In most cases, 2-4 teaspoons of kadha should be mixed with an equal amount of water.
Precautions For Dhootapapeshwar Mahamanjishthadi Kadha
1. This medication should only be used by diabetics and people with high blood pressure.
2. Prevent children from getting access to it.
3. Maintain in a dry, cool environment.
4. Women who are pregnant or nursing should not take the medication.
Terms and Conditions
Before purchasing this medication, we have assumed that you sought medical advice and are not using it for self-medication.
Attributes
Brand
Dhootapapeshwar
Remedy Type
Ayurvedic
Country of Origin
India
Form Factor
Liquid
Price
₹ 192