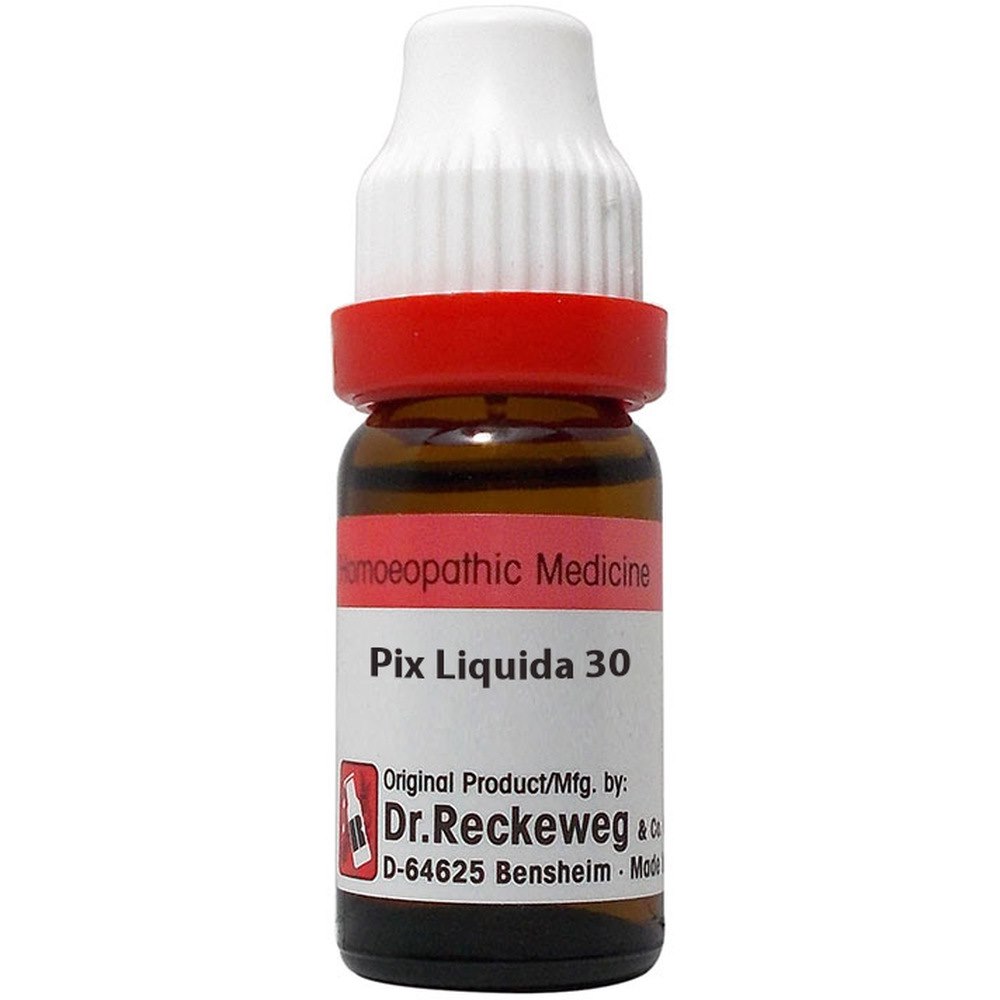 Dr. Reckeweg Pix Liquida 30 CH (11ml) : Skin eruptions, Itching, bed wetting, black vomit, cough, colic
Also known as
Snap Lig
Properties
Potency
30 CH
Form
Liquid
Weight
40 (gms)
Dimensions
3, 2, 3, and 7.4 millimeters
Dr. Reckeweg Pix Liquida(Dilution)
a by-product of coniferous woods being dry distilled
Common Name: Liquid Tar, or pine-tar.
Causes & Symptoms for Dr. Reckeweg Pix Liquida
Psoriasis and scaly eczema skin stimulant that causes hand eruptions.
Urine that is dark in color, stools that are black, and acne and severe eczema.
Sleepless, with cracked skin that bled when scratched.
Infuriating muco-purulent expectoration accompanied by chronic bronchitis
Kids urinating at night and having dark urine
Abdominal, loin, and stomach pain that is excessive.
Chronic cough, night coughing more, expectoration, and extreme exhaustion.
The backs of the hands in particular suffer from rashes that itch so badly at night that they bleed when scratched.
Side effects of Dr. Reckeweg Pix Liquida
Although there are no such side effects, it is still important to take each medication according to the instructions.
Even if you are taking other forms of medication, such as those obtained through allopathy, ayurveda, etc., it is safe to take the medication.
The effectiveness of other medications is never hampered by homeopathic remedies.
Dosage and rules while taking Dr. Reckeweg Pix Liquida
Three times per day, mix five drops in a half cup of water.
The globules can also be used as medicine; take them as directed by your doctor, usually three times per day.
We advise you to use medical advice when taking.
Precautions while taking Dr. Reckeweg Pix Liquida
If you take medication, make sure to wait 15 minutes between eating and taking it.
Consult a homeopathic doctor prior to use if you are pregnant or nursing.
While taking medication, refrain from consuming alcohol or tobacco.
Terms and Conditions
Homeopathic medicines have a variety of uses and are prescribed based on symptom similarity; it is assumed that you have sought medical advice before purchasing this medication and are not self-medicating.
Attributes
Brand
Dr. Reckeweg
Remedy Type
Homeopathic
Country of Origin
Germany
Homeo Forms
Dilution
Potency
30 CH / 30CH
Price
₹ 125