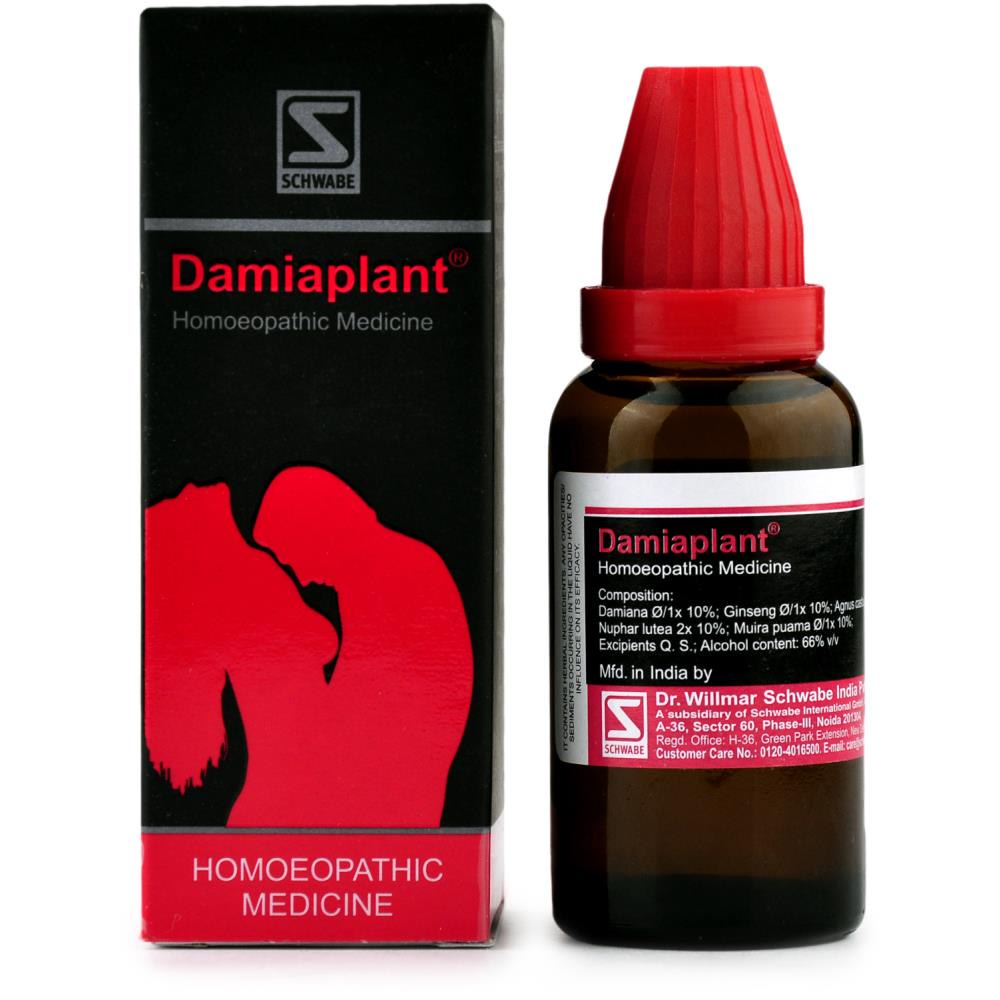 Willmar Schwabe India Damiaplant Drops (30ml) : For Males in erectile dysfunction, premature ejaculation, stamina
Also known as
Damia
Properties
Form
Drops
Perfect For
Male
component foundation
Homeopathic
Weight
90 (gms)
Dimensions
3,6,3, and 9,5 millimeters
About Damiaplant Drops
Damiaplant is a well-researched and effective nerve tonic in cases of nervous exhaustion and mental/intellectual listlessness, and it is helpful in male impotency (erectile dysfunction, premature ejaculation, sexual weakness, loss of libido).
Patients of both genders can benefit from daimon plant.
Composition
Dominica Q 10%
10% of ginseng
20% more of agnus castus
2x 10% Nuphar lutea
10% Muira Puama
Excipients range from 5% to 99%
66.0% vol/vol alcohol
Dosage/Direction for use:
Take 10 drops three to four times daily.
Contains:
Damiana: It treats sexual neurasthenia, impotence, and sexual debility brought on by nervous prostration. It also functions as a general tonic and antidepressant.
Nuphar luteum: Virility issues, a relaxed and retracted penis, and penis and testicular pain.
Muira puama: It is an effective treatment for impotence, erectile dysfunction, and weakness, as well as an aphrodisiac.
Ginseng: It is advised for impotence, early ejaculation, maintaining vitality, and other issues; it acts as a secretary gland stimulant, treats pain after emission, weak genital organs, and other related issues.
Agnus castus Sexual melancholy, nervous depression, and lack of drive. Lack of erection, lack of libido, loss of prostatic fluid, or scanty emission without ejaculation.
Terms and Conditions
Before purchasing this medication, we have assumed that you sought medical advice and are not using it for self-medication.
Attributes
Brand
Dr. Willmar Schwabe India
Remedy Type
Homeopathic
Country of Origin
India
Form Factor
Drops
For Use By
Men / Male
Price
₹ 385